Read Time - 3 Minutes
---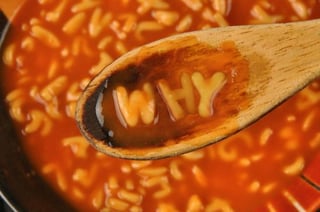 Have you ever wondered why the word "why" doesn't start with the letter Y? Well, I have, and I can't find any reason why "why" starts with W.
And while we're on the topic of W—or at least I am—how come it isn't "Double V"? And how is it W, when pronounced, is the only letter that has more than one syllable?
Why isn't "you" just "U"? (Female sheep don't know either.) Does the spelling of the letter C include the letter C at all? Why does the word "noel" have an L in it? But I digress, as I often do, so please forgive me. I went to school in Illinois near a town called Effingham where I earned an English degree, so it can be said I have a BA in BS. A man of letters indeed!
OK, so I'm annoying inquisitive by nature, and I ask "Why?" pretty frequently. Usually about parking-on-the-driveway-and-driving-on-the-parkway kinda stuff. I admit I am a proud disciple of useless and trivial quasi-information. Ironically, I don't know why.
But there is one "Why?" question that was recently posed to me by a distributor that is certainly not a trivial matter. It's a big question.
"Why should I take on custom recognition?"
The answers are as easy as A-B-C:
The A-B-C's of Recognition
Acquire new opportunities as your customers look to you for creative solutions
Being the go-to problem-solver on behalf of your clients means they will think of you when they are challenged.

Break the "right" versus "right now" cycle
Reframe the client's needs as a function of effectiveness, not velocity. Ask the question, "What are you trying to achieve?" to reveal the truth behind their thinking.

Create an annuity
80% of our custom awards repeat annually.

Distinguish yourself from your competitors
Prove yourself to be more than a broker of stuff. You can occupy a creative space as the sole provider for your clients.

End the race to the bottom
All distributors have the same product sources as you do. Assume someone else—at some point—will be willing to take the order from your client on a thinner margin.

Forego the RFP
Ask yourself how many "bids" you've actually won—and what it cost you to participate in the ones you didn't win. Participate in the process, but offer one-of-a-kind alternatives beyond the scope of the RFP. Think outside the bid!

Gain protection from competitors by creating an exclusive product
The circling vultures can't find you if they don't have the product. Shut out your competition with custom work. And be sure to work with vendors who will protect your relationship with the client.

Help your client by adding value to their business
Isn't that what we're all supposed to be doing? It's about your client's business, not yours…or your vendor's. Solutions that are genuinely focused on the customer will always rise to the top.

Increase your business base and margin
You already have the customers, but are you covering all their needs? The awards category is about 5% of the promotional products market. That's $50,000 of every million. Is your business aligned with those numbers, or do you have an opportunity to grow your business—and your margins—organically?

Join in or be left out
89% of organizations utilize some form of recognition for their achievers. If you're not selling it, someone else certainly is. And what you don't need is someone else snooping around your customer.

While it's true that the initial letters of the 7th through 11th months in sequence spell "Jason", that might only be interesting if your name happens to be Jason. What benefits you as a promotional products professional is how you can build your business. In other words—and letters—the point of this is to put the "you" in recognition!
---
Dave Miller is VP of Sales & Marketing at Bruce Fox, Inc. and a professional writer by virtue of the fact his company is paying him to write this blog. He has been with Bruce Fox since MCMXC. "Twelve" is the only number word between 1 and 20 whose total Scrabble letter value is the same as the number it spells. The goal of his blog is to "edu-tain" (educate + entertain) promotional products distributors, with a focus on custom work. Dave also finds it very awkward to write about himself in the third person.