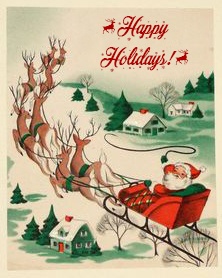 Read Time - 3 Minutes
(This blog was originally published on Dec. 14, 2016)
---


'Twas the night of the banquet, when all through the room
Not a soul could be found, but they'd be on hand soon.
The tables were dressed in fine linens with care,
In hopes that everyone soon would be there.
The recipients descended all dressed to the nines,
While visions of grandeur danced in their minds.
As the host for the evening, I went over my notes,
Complete with some wit, and a few pithy quotes.
When out in the lobby there arose such a clatter,
I sprang from my chair to see what was the matter.
Away to the foyer I flew like a flash,
To see what was troubling this well thought-out bash.