Estimated Read Time: 3.5 minutes
---

Incentive gifts, they are useful for increasing employee engagement and retention. Yes, those hot button topics and phrases that have been drilled into your head and you regularly get questioned about. But, isn't that your bread and butter?
So your portfolio has a wide array of products, from blenders and headphones to handbags and golf balls. When your client names something; you get it for them or find an alternative, which is part of your job, right?
When They Want Something Else
But what happens when they want something unique and branded? What do you do then?
Do you have a company or a few products in your back pocket if they ask for that?
If you don't already, you should consider it, because with the modern world of branding and personalization, it's not an "if" but "when."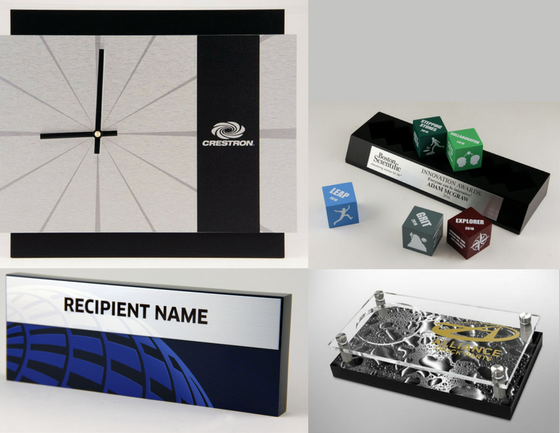 Unique and Branded Incentive Gift Ideas
So what do you do? Go to your typical vendors asking for something outside of their wheelhouse? Or do you have a company or two in the wings just for this occasion?
It's pretty obvious on what we are recommending; get yourself a trusted vendor to add to your portfolio for the inevitable question of branded, personalized, and unique.
Yes, we are shamelessly promoting Bruce Fox. But only because we firmly believe that we bring unique value that can benefit your portfolio and offerings. We are a custom manufacturer, which means that if you have a pen and paper, we're here to help; we can create the product from scratch. Bruce Fox is known for being a custom awards and recognition manufacturer, but can also create branded office and home pieces. Here are 6 ideas to get your inspiration juices flowing.
1. Clocks
Whether you want the logo to be small on the clock or want the clock be the shape of your logo or name, there are plenty of options on the spectrum. These are great for the office or home.
2. Ornaments
A simple gift that's small and easy to store. These are great around the holidays or for collectors.
3. Desk nameplates
A great onboarding or year-round gift, this allows for branding and company consistency while still making the employee feel special.
4. Commemoratives or desk toys
The sky is the limit for these. They can be fun and interactive while still having a branded message or inspiration. This allows for a lot of creativity and a bit of fun, too.
5. The Drinkwell
It's a beverage holder, an innovative and functional way to keep your work space beverages safeguarded against spills that can ruin your day – and your sensitive electronic devices. Easy to brand and give throughout the year.
6. Branded full-color mirrors
Custom mirrors are typically a big hit, especially for beverage, food, sports teams, firearms, motor sports, vehicle, and motorcycle companies. Often put into game spaces and entertainment rooms in homes, branded mirrors are a fun addition.
There are plenty of other ideas and products, too, but these six are a good start to help inspire you. The beauty of working with a custom manufacturing company is that it all starts with a blank piece of paper and a vague idea. Together we develop ideas and create the perfect custom product for your client and their needs.
Want to learn more about developing a custom and branded incentive program? Reach out to start a conversation or take a spin around our website to see some of the work we've done in our product portfolio gallery.
---

Kristina Hublar is your friendly neighborhood Marketing Specialist at Bruce Fox, Inc., which means she is the person behind the keyboard for the social media, emails, website, and other marketing efforts. She's new to Bruce Fox, but is an Indiana native. In her spare time, you'll find her plotting her next road trip, bobbing along to music while crafting, spending time with loved ones, or with her nose in a book.