Read Time - 4 Minutes
---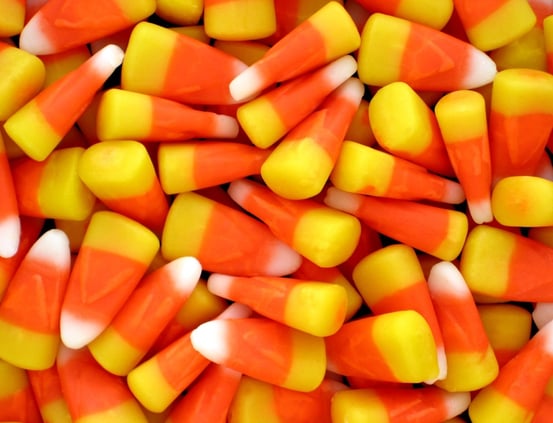 If you happened to have just awakened from a coma and you don't know what day it is, there are two places you can go to know it's nearly Halloween.
One is Home Depot. If your home center is trading its patio furniture for a forest of artificial Christmas trees, you can be assured that trick or treaters are preparing for their assault on our neighborhoods.
The other place is your grocery store of choice. In October, candy corn—seemingly unavailable any other time of year—is quite abundant. In fact, I'm certain 99% of candy corn sales happen in the month of October. (I'm equally certain 99% of candy corn is discarded in the month of November.) So if it's in the stores, it's definitely closing in on Halloween.
Ahhh, candy corn…the ubiquitous and polarizing Halloween staple. When it comes to candy corn—like cilantro or presidential candidates—either you "is" or you "isn't" in terms of your preference. Not much gray area in between. But what can't be debated is the fact candy corn is… well, no offense to the "is" faction… rather …uh… ordinary… unexciting… mundane. Okay, it's damn boring!
But wait! There is hope for our Cinderella of candies before midnight strikes and the pumpkin (not coincidentally) takes her away for another year. The answer? Salted peanuts. The formula is simple:
An Amount of Candy Corn + An Equal Amount of Salted Peanuts = Pay Day!


So rather than let those orphan candy corns go stale (do they ever?) and get pitched at Thanksgiving, spruce 'em up with some peanuts.
What's the significance of transforming sugar-laced wax into something marginally edible? Well, since I suffer from chronic and irreversible recognitionitis, I frame nearly everything in terms of custom awards. (Yes, I am in need of a hobby.) So let's take the ordinary—brass plate on walnut board, non-descript glass award, etc.—and make it extraordinary. It's as easy as adding peanuts to candy corn.
In the infographic below are a few reasons why, as a promotional products distributor, you should amp up the ordinary and sell custom awards. For a more in depth discussion on each topic, scroll down.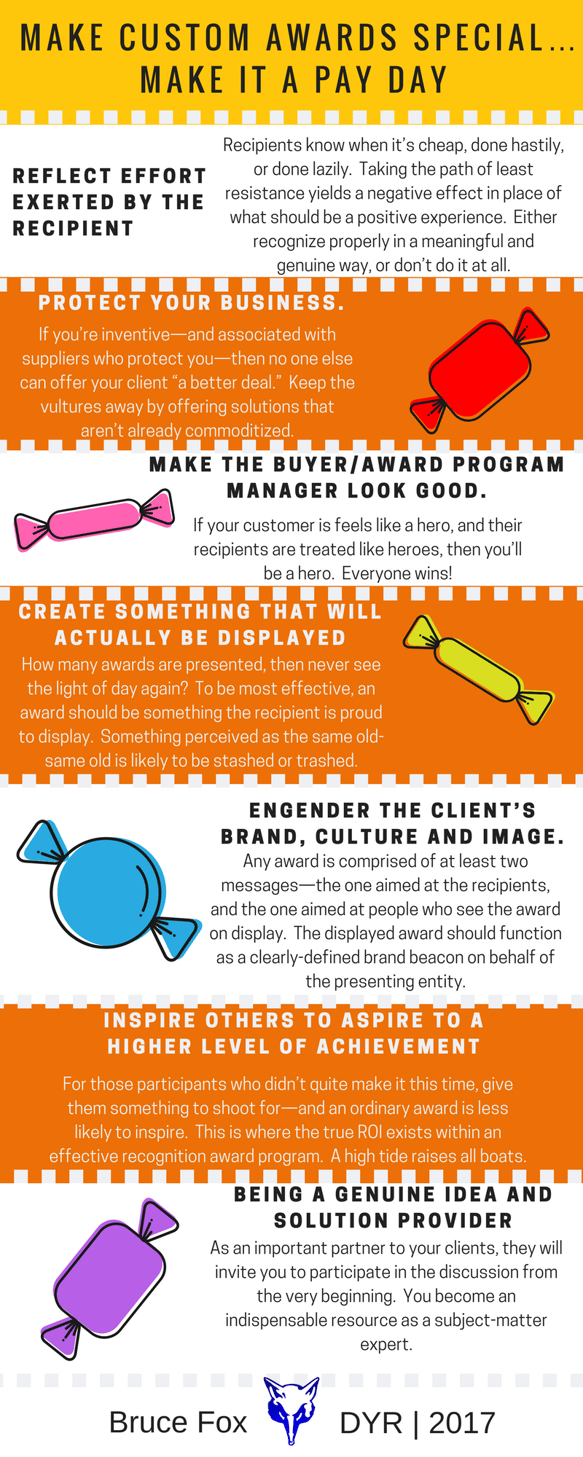 Let's Take a Closer Look:
1 | The award presented should correspond to the effort the recipient took to earn it.
Recipients know when it's cheap, done hastily, or done lazily. Taking the path of least resistance yields a negative effect in place of what should be a positive experience. In human terms, either recognize properly in a meaningful and genuine way, or don't do it at all.


2 | Protect Your Business.
If you're inventive—and associated with suppliers who protect you—then no one else can offer your client "a better deal." Keep the vultures away by offering solutions that aren't already commoditized.
3 | Make the buyer/award program manager look good.
If your customer is feels like a hero, and their recipients are treated like heroes, then you'll be a hero. Everyone wins!

4 | Create something that will actually be displayed.
How many awards are presented, then never see the light of day again? To be most effective, an award should be something the recipient is proud to display. Something perceived as the same old-same old is likely to be stashed or trashed.
5 | Engender the client's brand, culture and image.
Any award is comprised of at least two messages—the one aimed at the recipients, and the one aimed at people who see the award on display. The first message is relatively easy to convey; the second one is often overlooked. The displayed award should function as a clearly-defined brand beacon on behalf of the presenting entity.
6 | Appeal to the non-qualifying population to aspire to a higher level of achievement.
For those participants who didn't quite make it this time, give them something to shoot for—and an ordinary award is less likely to inspire. This is where the true ROI exists within an effective recognition award program. A high tide raises all boats.
7 | Being a genuine idea and solution provider places you in your client's inner circle.
As an important partner to your clients, they will invite you to participate in the discussion from the very beginning. You become an indispensable resource as a subject-matter expert.
It's Simple...
The catch to all this is that it's just not as easy as flipping open a catalog or sending customers a link of a "your logo here" or "one size fits all" item. But the good news is that most of your competition is doing just that, and with a bit of planning, effort, and support from your key suppliers, transforming the ordinary to the extraordinary can lead to a lucrative pay day.

And when I say "Pay Day" I mean like cha-ching!


Interested in learning more about engagement?
Read The Definitive Guide to Employee Recognition Free Employee Recognition & download the free toolbox!

---

Dave Miller is VP of Sales & Marketing at Bruce Fox, Inc. and a professional writer by virtue of the fact his company is paying him to write this blog. He has been with Bruce Fox since 1990, which somehow sounds more palatable than 26 years. The same company that originated the PayDay candy bar in 1932 also created the Zero bar. The goal of his blog is to "edu-tain" (educate + entertain) promotional products distributors, with a focus on custom work. Dave also finds it very awkward to write about himself in the third person.