Estimated Read Time: 1.5 Minutes
---
After the hard work, sacrifice, and fierce competition, the winners are standing on a podium. They are receiving me.
I am capturing hearts, challenging minds and bodies, and changing lives. I am what so many have worked and strived for. I am the symbol of hope, strength, comradery, and competition. This is what it means to be more than a design or a spark of an idea. More than a prototype. And more than the hats or shirts the competitors are wearing. I am unique. I am a symbol. I mean something – so much to so many!
I have never felt so alive!
I am an award!
Preparing for Next Year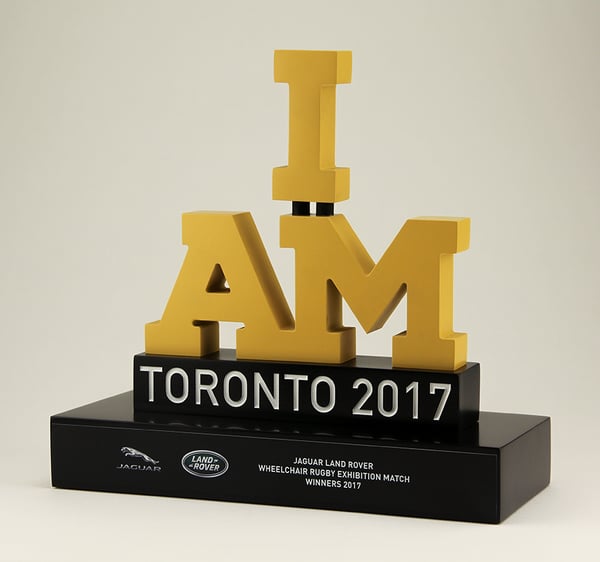 I have reached my pinnacle. I have inspired so many and have become the spirit and symbol of the competition.
So, after the season's Invictus Games, planning for next year starts all over again. The expert the Invictus Games brought in suggested that we go ahead and start planning for next season. And rather than filling out countless PO's for various items, like branded shirts, hats, or even the I AM awards, the expert recommends a web store.
Bruce Fox offers the ability to create a web store to reorder me, as well as fulfill the other branded items we want or use.
Award Web Store

With a web store, the Invictus Games Foundation can choose all of the branded items they want, from shirts and keychains, to be on the store to be ordered. Then, the designated Invictus team members just log in and order what is needed. From anywhere in the world.
How easy is that? Ordering me – the award – is so simple, it's just logging in and filling out a form.
I'm an award and I'm going to be ordered (and presented) for a long time. I can't wait!
---

Kristina Hublar is your friendly neighborhood Marketing Specialist at Bruce Fox, Inc., which means she is the person behind the keyboard for the social media, emails, website, and other marketing efforts. In her spare time, you'll find her plotting her next road trip, bobbing along to music while crafting, spending time with loved ones, or with her nose in a book.