Estimated read time: 13 minutes
---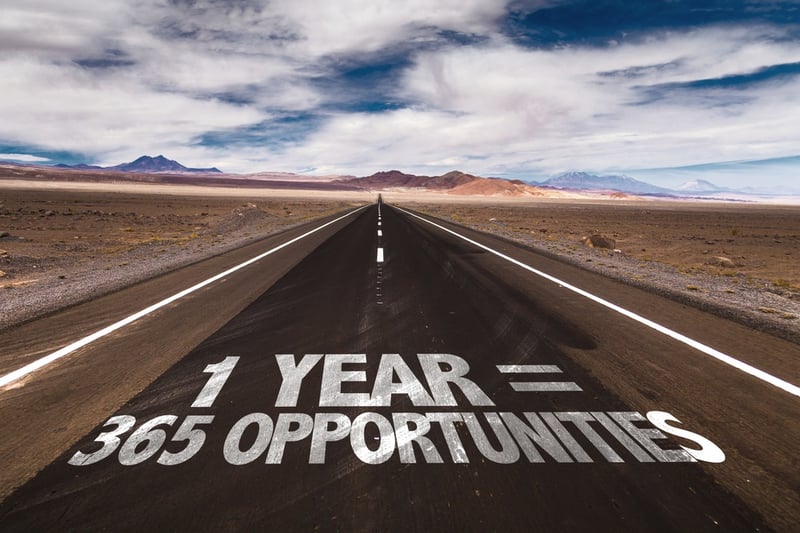 You hear it every year, "What's your New Year's resolution?" Then people stammer out something that they want but will only half-heartedly try for. Do you know how much the gym is flooded in January, but yet it goes back to normal just a few months later? Maybe a few people will stick it out and succeed, but the majority of people give up.
So rather than giving you another useless New Year's resolution and try to inspire you to do something that will never become a habit (which is what is needed to succeed in one of those resolutions), we will give you something to try, to experiment with. Because let's be honest, that's what the New Year is about. Trying out new things, keeping what we want and discarding the unpleasant.
Experimenting with Some New Sales Tactics
Change up the game just a bit. We're not suggesting really changing anything major. Don't fix what's broken, right? We're saying to just tweak a few things, see if it's worth the effort for a bit. Ask a client if an opportunity arises. Or use one of these ideas to get your foot in the door. If it earns you some more money in sales commission, then all the better for you!
13 Sales Tactics to Spice Up Your New Year
13? Yes, we are giving you a lot to consider, experiment with and combine, overall letting you customize for what best suits you. We all know that there's no such thing as a one-size-fits all anything, much less a sales solution or tactic. So we are giving you thirteen ideas that you can mix as you choose.
These 13 tactics are ways and ideas to come to your clients with for possible solutions and sales; these are possible opportunities.
So, just spread your wings a little and see if one or a combo of these could blend with your portfolio and your sales style.
1. Custom
This is broad, but it is a good opener for other ideas that will come later in this list. We're not talking about slapping a logo on a piece of glass and calling that custom. Consider sitting down with a client with a blank piece of paper and being a true consultant, creating a solution from scratch. This could mean a campaign for engaging prospects or creating a custom internal recognition program. Custom endears you to the client for your guidance and opens you up for more sales opportunities that they know that they can't go anywhere else for. Read our blog about selling custom to learn more. Consider experimenting with custom products and see what becoming a custom expert could get you and your bottom line.
2. Identification and Signage
Your business, your neighbors, and every business or organization you have worked with or passed most likely has a form of identification and signage. Have you ever thought about where they have to go to get them? Companies like Bruce Fox that are already making custom signs and products. So if you have a client that is opening a new location or wants to update their signage, it never hurts to offer your assistance. Especially since signage is not that different from designing for a letterhead or badge. So if you are experienced with working in those mediums, consider indoor and outdoor signage and identification.
3. Point-of-Purchase Displays
Let your marketing muscles flex with P-O-P Displays. These can be from signs on the counter telling customers that the business has won awards, name plates for customer-facing employees, or even displays that are supposed to engage and inspire purchase with prospects. There are a variety of options here, but the beauty is if you want to position yourself as a marketing consultant, then this tactic for promotional sales might be perfect for you. Just be sure to understand the goal of the P-O-P display first before going too far down that road.
4. Honor Walls and Lobby Installations
Veterans Walls, Honor Walls, Donor Walls, Sales Achievement Walls, and Training Program Graduate Walls are just a few of countless other reasons and ideas for lobby installations. From non-profits, churches, and schools to large corporations, large-scale recognition displays are easy to understand for clients. Whether they want to thank donors, thank veterans for their service, or want to thank their own employees for their good work, Honor Walls and Lobby Installations are statement pieces that also have meaning.
5. Commemorative and Event Gifts
When a client says they are hosting an event or wanting to celebrate a significant achievement or partnership, consider a more upscale gift than a hat or stuffed animal. This could be a custom replica of a product or item, it can be an abstract but meaningful item, an ornament, an interactive desktop gift, a themed trophy, or it can be anything else. That's the beauty of commemoratives, they have a wide variety of options, limited only by your imagination and the vision you and your client share. This is another tactic that requires creativity and wanting to be a consultant, being the go-to person for upscale customized commemorative and event gifts.
6. Emblematic Seals
This requires a bit different mindset. These are the emblematic seals for organizations, government bodies, or societies. They typically will not change and they are proud of the traditional seals. The sales tactic for these is being watchful and knowing if there is a new lodge or location being built, or updates to a current building. Seals require timing and knowledge about the organization. However, seals are a great way to become known in respected circles, as well as there is usually little back and forth about the design.
7. Recognition Awards and Trophies
This is the most common category that comes to mind when people hear custom. These can be for anniversary awards, top sales, safety programs, graduating a training program, or other specific performances and achievements. Many companies and organizations understand the importance of rewarding employees for performance and achievements, but they often need to be led in the direction that best suits their needs and budget. This is another opportunity that requires a creative mind and a consultative sales approach.
Read this blog if you are debating about adding custom awards and recognition to your sales repertoire.
8. Mission Statements and Displays
This is a culture-specific item that reads or shows a company's creed, history, or mission statement. It's as important to the employees as much as the building's visitors. Since this is the heart of the company, their branding, and culture, this requires creativity and a deep understanding of the organization. The sales tactic around this is consultation along with a bit of environmental branding. If you are good with decor, branding, and tapping into the DNA of a brand, then this is a great up-sell or foot in the door. Companies and organizations can typically grasp the importance of displaying their mission statement or history.
9. Branded Office Items
From branded clocks to a glass table with their logo on it, custom office items that are branded is a unique "wow factor" for something they're already having to purchase. This is perfect for those wanting to get involved with environmental branding or design. Also, this is a creative segment of custom that allows for that consultative approach that embeds a sales person even more into a company. For this tactic, consider looking for companies that want to rebrand, are moving, building, or step up their game. This will require sitting down with a blank sheet of paper and finding the best solution for your client's needs, wants, and budget. If you want to expand to environmental branding and some consultative creativity part of your portfolio, this would be interesting for the mix.
10. Architectural and Decorative Displays
If you just sold custom commemoratives that will all stay in one place, then decorative displays are a no-brainer upsell. When the decorative elements are part of the architecture or part of the environment, then those are sales opportunities as well. What does that mean? We mean this can be from recreating a decorative ornament frieze that is on a church that has deteriorated over time all the way to custom displays for awards that are free standing and part of the room, not just wall decor. These are large-scale custom pieces that are part of the architecture, whether a decorative element or are the centerpiece. This means you can sell to restoration projects, older buildings, or designers and architects for currently being built projects. Or, you can add on custom displays for large scale honor fixtures, like busts. This sales tactic gives you two options. You could go the decorative route and go into new segments, or it can be a great upsell when you see the opportunity. Learn more about architectural and decorative displays here.
11. Product Replicas and Miniatures
A building, a car, a mascot, a product, or anything else that you can dream of, that's what can be made into a miniature or replica. These can be given out as awards, commemoratives, or just lobby art; there are plenty of reasons for replicas or miniatures. The best time for this sales opportunity is using the tactic of opportunity. If you are already selling custom awards, then this is a great alternative option to provide for choices. If your client tells you about a product launching event and ceremony, then suggest a product replica as a commemorative. You could offer the same thing for launching a new store; that's what Best Buy does; they give a building replica to celebrate a new store opening. This requires a bit of creativity because not all organizations have a distinct building or mascot, so consider some unique methods on showing the brand. If you like the idea of being a consultant that walks in with some ideas and a blank sheet of paper, but you also want to slowly wade in, then product replicas and miniatures are a great start.
See how each of these sales opportunities and tactics can combine?
12. Corporate and Lobby Art
If you're really interested in getting into the corporate decor sector, then this is the end of that spectrum. Corporate and Lobby Art means defining and capturing the company, branding, and theme that they want in that room. This could mean taking pictures of different parts of a car for a car dealership or soothing nature art for an immediate care center. A bit of creativity and a deep understanding of the brand and target audience for relevant and insightful recommendations is essential. It is recommended to try this sales tactic once you have a bit more experience with environmental branding.
13. Marketing and Promotional Products
This takes a little bit of a different mindset from the awards, trophies, and gifts; however, it is an easy one to understand for a promo distributor. This is a tangible item that either accompanies or highlights a specific call to action. This could mean a piece asking for donations or a symbolic piece for launching a new product to channel marketers. As you know, there are countless options for marketing and promotional products, from bags and hats to pens and light-up cups; however, these are more custom and upscale promo and marketing products. This is more than putting a logo on a stress ball that will get thrown away, this is a custom piece that's so nice that they'll want it on their desk or in their corner office on a shelf. This will require sitting down with that blank sheet of paper and being a promo marketing consultative expert, understanding what moves the needle for the prospects and the client. This is one of the easiest to add to a promo portfolio since it's a concept that distributors are familiar with.
All 13 of these opportunities fall on a spectrum of options that you can blend and combine to your own needs, each with their own sales tactics and approaches. Based on what direction you want to go or stay as a sales professional, you can try out any of these and see if they fit into your sales style and portfolio. And if you want assistance, a bit of guidance, or some experienced professional advice, we'll be happy to help any step of the way, feel free to reach out.
As we said at the beginning, the New Year is not about falsely telling yourself that you're going to change everything, it's about experimenting with pieces and seeing if they fit you. The New Year is more about trying new things. So, try some of these opportunities, ideas, and tactics and see where you go. May the New Year take you to new, profitable, and exciting places.
Happy New Year!
---

Kristina Hublar is the Marketing Specialist at Bruce Fox, Inc., which means she is the person behind the keyboard for the social media, emails, website, and other marketing efforts. She's new to Bruce Fox, but is an Indiana native. In her spare time, you'll find her plotting her next road trip, bobbing along to music while crafting, spending time outside with loved ones, or with her nose in a book.