Estimated Read Time: 2.5 Minutes
---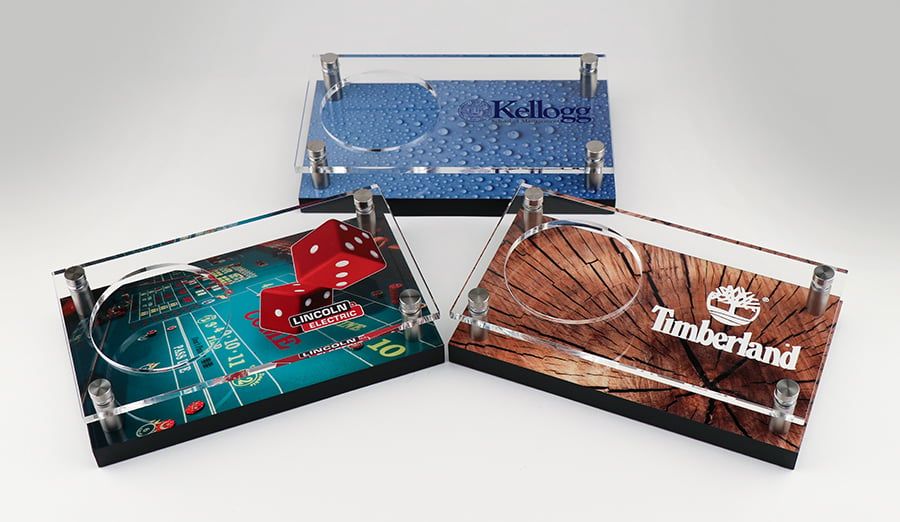 When searching for branded products to offer your clients, unique, patented products are a huge plus, right?
Then, meet The Drinkwell by Bruce Fox, Inc. As of 2019, our Drinkwell is a patented product only available here.
But what is the Drinkwell?
Meet The Drinkwell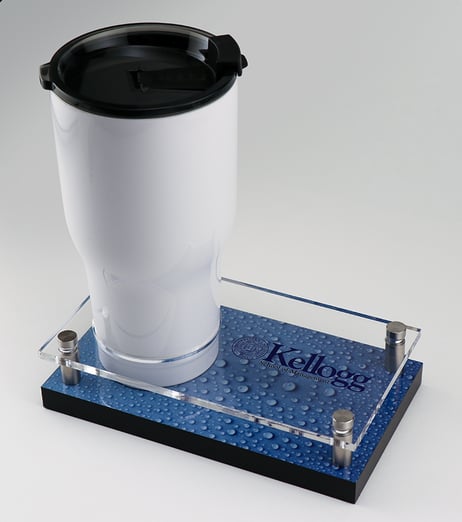 The Drinkwell is an innovative and functional beverage holder that safeguards against spills that will ruin your day – and your sensitive electronic devices.
This branded workspace beverage holder boasts the following elements:
Heavyweight wood base of 5/8" thickness with an imprinted background pattern and gloss lamination for a durable surface

Measures 4-1/2", which is a compact addition to the desktop setting

The 3-1/8" diameter holder is compatible with most 20 oz. and 30 oz. thermal tumblers, as well as a variety of other beverage containers

Imprint area is 3-1/2" wide x 3"

Provides a stable holder for your beverage, preventing spills that may otherwise damage sensitive or valuable items on your workspace

Heavyweight wood base is laminated for a glossy, moisture-resistant finish, and includes a non-skid/non-scratch bottom

High-quality, full-color printing on clear acrylic stand-off

Optional personalization available

A shippable gift box option is available

Choose from 28 standard backgrounds

Create your own custom background option




The Benefits of a DYR Piece
The Drinkwell is a DYR piece, which means it's a stock piece with a splash of custom.
Price – Since DYR is less complex because it's a stock piece with some customization, the overall price is lower than our completely custom options.

Turnaround Time – Since there aren't any prototyping and major design requirements, we can quickly render a proof for approval and produce the product. We typically have a turnaround of virtuals of only 1-2 days and shipping out to you in only 10-12 business days following proof approval.

Lower Minimums – Since these are stock, the quantity necessary to offset the tooling requirements are not as high as our custom work.

Stock – Having product options in stock for us to easily put together for your project allows for fast turnaround times, as well as lower prices. This also means a consistent product for future repeat orders.

Customization – Recipient name, logo, company, title, date, and other factors are common additions. We can work with you on what you want and how to best fit the design you've chosen. And don't worry; you can have personalization on each Drinkwell, too.
Want to get started with a Drinkwell? Go to our page and view our pricing or contact us – we'll be happy to help.
---

Kristina Hublar is your friendly neighborhood Marketing Specialist at Bruce Fox, Inc., which means she is the person behind the keyboard for the social media, emails, website, and other marketing efforts. In her spare time, you'll find her plotting her next road trip, bobbing along to music while crafting, or spending time with loved ones.