---
Read Time - 4 Minutes
---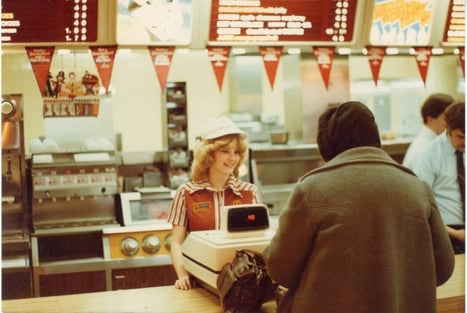 THREE SCARY THINGS…FROM LEAST TO MOST SCARY:
There are more dispensaries of logoed stuff than Big Macs.

Ronald McDonald. All clowns are downright creepy.

Your promotional products company may be more like a fast food joint than a sales agency.

Not my company, you say? Good. But let's give it the taste test first.


Fast food restaurants essentially trade calories for dollars. The experience, the quality, and the impact are all secondary—or even thirdary, which is a word I just made up that is easier to understand than tertiary. You order a #7 (probably while pointing to a picture) and you're called by order number when your calories are ready. They are simply taking orders, which is all that matters.





And while taking that order, eye contact is non-existent because the experience is purely transactional, not interpersonal. If you were to close your eyes entirely, in fact, you may not even know which joint you're in to begin with. Even while you're eating the food. Which you should probably do with your eyes closed anyway.



As a promotional products distributor, take notice: If you are showing pictures and taking orders by number, and there is no personal relationship with your customers, then you are operating a McPromoland.



Even as a McPromolander, you have an identity—as your name badge implies. But your customers are distracted by the numbers and pictures you're showing them to really get to know you. That's not to say your customers don't like you, it just hasn't dawned on them that they need to. You are a means to an end. An order-taker. They could just as well be standing in someone else's line. Or at another McPromoland down the street. And there are plenty of those to go around.



If you are interested in differentiating yourself from McPromoland, try a consultative approach to selling recognition awards. You can become the specialist that nearly everyone needs at some point, as 89% of all organizations are engaged in recognition programs. If you dedicate yourself to preparing home-cooked meals in an intimate environment (without a drive through), then you can build a loyal following in your market. People do want a meaningful experience when given the choice, so give your customers a choice.



Here are eight reasons you should get cookin' and become a recognition consultant:
1. It creates an innovative & creative environment
Give your customers what they want by actually asking them what they want, and then building what they want from scratch. They'll wait a few minutes longer for a home-cooked meal, but it will be worth the extra effort on your part because they'll come back for more.
2. It's proactive vs. reactive
Your customers are conditioned to McPromoland, so you are McPromoland by default until you convey a different experience. Interrupt the order-by-number routine and talk to customers about what their objectives and critical missions are. From there, you can tailor a menu to each customer's appetite and palette.
3. It's personal, not transactional
Making the relationship about your customer will endear them to you. You're not trying to upsize the french fries to someone who doesn't even like them. Step away from the cash register and grab a notepad. Meet with your customers and interview them about their business.
4. It fosters trust with & protection by suppliers
There are plenty of suppliers serving the McPromoland marketplace, and they are interested in supplying as many of the 21,000 distributors as they can. Let them. The more homogenized and commoditized the market is, the more you can stand out from it. Connect with suppliers that offer a differentiated experience and who focus their energy on helping you build your business. They are the partners that will stand by you in earnest when (not if) your competition tries to latch on.
5. It creates opportunities for supplier support and lead generation
When is the last time a supplier gave you a lead? As a supplier, I can promise you we get calls and inquiries from end users quite frequently. This is where your dedication and loyalty is repaid. If you have identified yourself as the go-to in your area in a given product category, then finding a good home for that lead is easy. The last lead I turned over to a distributor yielded a $35,000 net order. Which will repeat annually.
6. It fortifies product knowledge, and identifies you as a subject-matter expert
Walk your customers through a menu they've never known existed. In fact, create the menu with them. Most have only ever known the McPromoland model, so you can easily position yourself as a culinary genius.
7. It relieves your workload by delegating to partnered suppliers
Here's the real cool part: You can convey yourself as a culinary genius regardless of your cooking skills. Let your suppliers assemble the ingredients and prepare the meal. All you have to do is bring the linens and polish the silverware to make it a memorable experience for your customer—and a profitable one for you.
8. It delivers WOM
Nothing is more powerful than word-of-mouth. Like a successful restaurant, people not only come back for more, they'll share their experience with others. Recall discussions you've had with friends about restaurants in your town. Were any of them places where the food is served on plastic trays and the beverages have lids? A personal—and personalized—experience will stand out, and will be shared by your customers.


---
You can quit McPromoland if you want to. Dedicating yourself to serving your customers with a unique and memorable experience is not only possible, it might be the only sustainable option. Align yourself with like-minded suppliers who will support you with distinctive solutions and capabilities, and become a specialized sales consultant instead. Or you can give them their order total and tell them to pull up to the first window.
---
Hero Image Photo Credit: Eater.com
---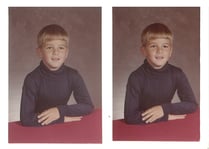 Dave Miller is VP of Sales & Marketing at Bruce Fox, Inc. and a professional writer by virtue of the fact his company is paying him to write this blog. He has been with Bruce Fox since 1990, which somehow sounds more palatable than 26 years. When he's hungry and in a hurry, he knows he is never more than 115 miles from a McDonald's in the continental U.S. The goal of his blog is to "edu-tain" (educate + entertain) promotional products distributors, with a focus on custom work. Dave also finds it very awkward to write about himself in the third person.