Estimated Read Time: 2.5 Minutes
---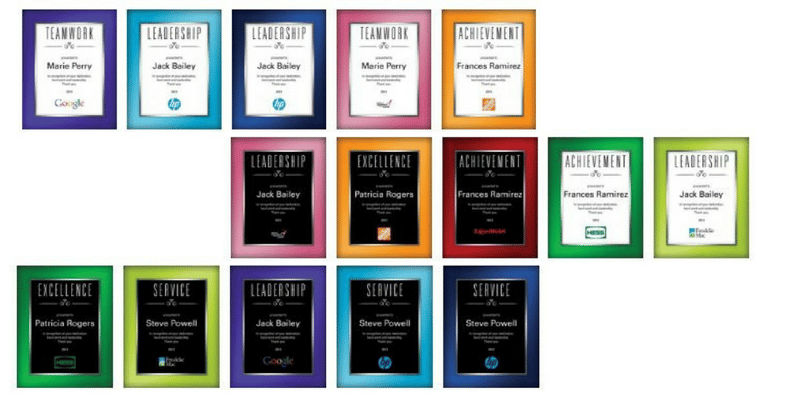 Color is vital in this industry.
Whether you want navy and white branded sunglasses or the perfect shade of maroon for pens, color defines our products and industry. The more color choices and options with color, the better, right?
So why isn't that the case for the awards and plaques segment? I can't even begin on how many boring plaques or hanging awards that I've seen that don't even bother with such a classic and basic element. Don't get me wrong, I like the classy black and white look, but at least spice it up every once and a while.
The Importance of Color
I know I don't have to make a case on why color is important with you.
However, I also don't think I should have to remind people that color for awards needs to be considered.
But here we are. Come on, people, change things up and have a bit of fun. Especially if your company isn't stifling and boring, dead set on the same wooden plaque that they've been getting for the last 73 years. *yawn*
All too often, people choose boring when a punch of color can really make the piece. Plus, color is branding 101 – allowing for easy identification and the perfect fit for the branding requirements.
So, instead of struggling on how to add the branding colors in, besides the logo, why not let the colors speak for themselves? Let them take the show and shine.
A Splash of Color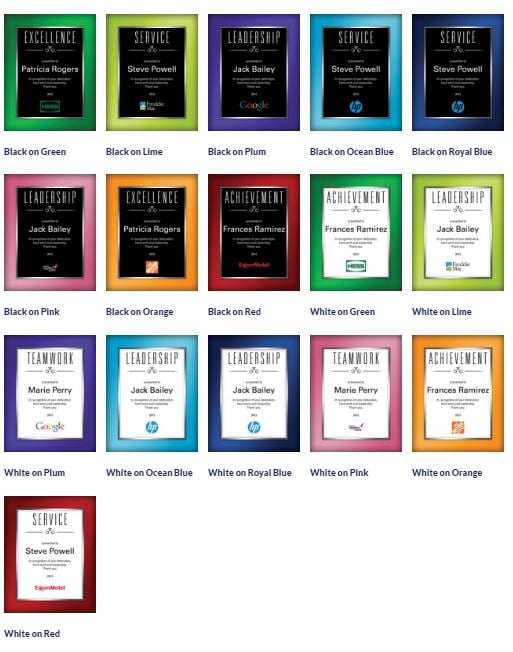 Our Splash of Color DYR line is full of vibrant full-color laminated plaques featuring an array of color combinations with a sleek infinity edge.
Our DYR line is different from our custom pieces, which you can learn more about that here. But, the main point is that this line allows for lower minimums (only 3!) and faster turnaround times (virtuals in 1-2 days and shipping out to you in typically only 7-10 days).
Furthermore, you can choose more than just the border color, so here's a simple step-by-step process on creating your Splash of Color piece:
1. Choose the outside color; this is the colorful border around the outside.
2. Choose the inside plaque color: black or white. This prevents the issue of clashing colors. The opposite color will be used for the writing.
3. Choose what you want to say and show on the plaque, this includes wording and logo.
Bonus
: You don't have to choose from the above example titles, such as Excellence, Leadership, Service, and Teamwork; you can also say other things, such as Engineering, Attendance, or Sales.
4. Choose if you want it as a wall mount or a desk display.
Simple as that, only 4 steps and you have a good start on a plaque that fits your branding needs and is not another boring plaque that is seen everywhere.
Learn more about our DYR line or reach out on our website.
---

Kristina Hublar is your friendly neighborhood Marketing Specialist at Bruce Fox, Inc., which means she is the person behind the keyboard for the social media, emails, website, and other marketing efforts. She's new to Bruce Fox, but is an Indiana native. In her spare time, you'll find her plotting her next road trip, bobbing along to music while crafting, spending time with loved ones, or with her nose in a book.