Estimated Read Time: 3 minutes
---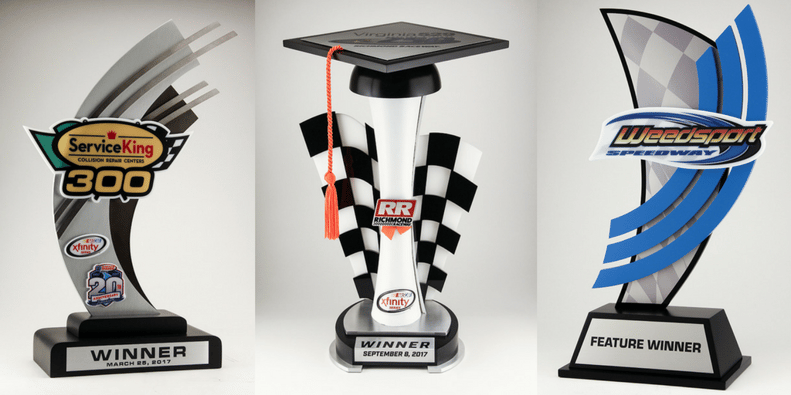 In December, we gave you a glimpse into a bit of our company culture with our Behind the Fox holiday blog. We promised you more blogs about getting to know the people and culture behind the fox logo. This time it's about, you've guessed it, NASCAR.
It has been deeply engrained into our company culture, but I'm not sure which came first – the love for NASCAR or us making so many of the NASCAR trophies. I suspect the chicken and the egg quandary might apply here.
For the Love of NASCAR
So, what does Bruce Fox do?
We have a NASCAR pool, of course! There are two ways to win this pool. There's the season win and the weekly races. Obviously, the season win means more money, but it's still fun to win the little weekly races, too!
Don't know much about the NASCAR point's process, phrasing, and system? Learn more on NASCAR.com and check out the basic rules and phrasing on Wikipedia.
At the beginning of the season, for the Chase, everyone pulls a driver number to cheer for throughout the season. The winner and second place get a cash prize for their driver.
In the meantime, every week everyone participating brings in their few bucks for the pool and draws a pole number. Those that watch NASCAR know that pole numbers aren't assigned to drivers until qualifying. It's fun with the bit of random element and you get to cheer on 2 different drivers! Then everyone watches the race with raucous cheering to see if one of their cars won. The winner celebrates, and then gets ready for the next drawing. First and second place winners get a little winnings and another portion goes to the charity chosen at the beginning of the season.
Employees pick the charity they want the money to be donated to. This could be anything from the American Heart Association to the Susan G. Koman Breast Cancer Foundation; last year it was the New Albany Animal Shelter.
NASCAR Trophies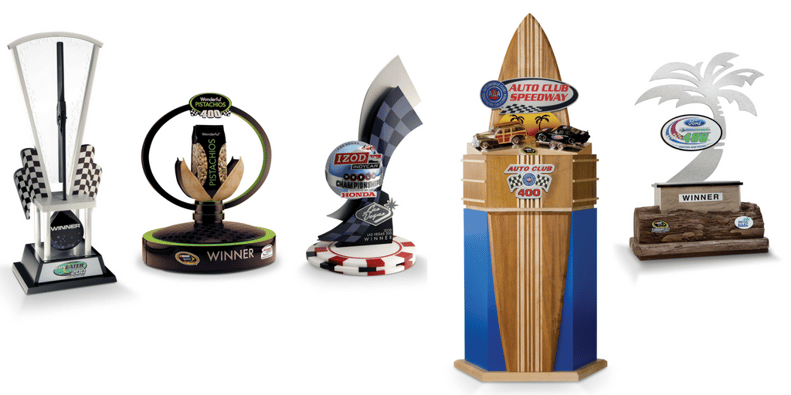 If you go to our website and search NASCAR, you will see a couple pages worth, with a variety of sizes, shapes, materials, and ideas. We've done it all. However, what you see on our website is just a sampling of our portfolio.
For years, we have been a premier trophy manufacturer, from football and hockey trophies to golf and NASCAR trophies– we bring the creativity, experience, and "wow factor" that's needed. Whether it's a trophy taller than a person or a company wants to incorporate a product in the trophy, like a working windshield wiper or a wrench, we've done it all. We can even design around a theme, such as the race location.
We're proud to produce so many NASCAR and other sports trophies. If you want to reach out to learn more about creating sports or other trophies – click here.
So, I still don't know if the love for NASCAR or the production of NASCAR trophies came first, but I do know that we love watching the racing, competing in the pool, and seeing the trophies we made being presented!
Do you have a favorite NASCAR trophy? Tell us in the comments!
---

Kristina Hublar is your friendly neighborhood Marketing Specialist at Bruce Fox, Inc., which means she is the person behind the keyboard for the social media, emails, website, and other marketing efforts. She's new to Bruce Fox, but is an Indiana native. In her spare time, you'll find her plotting her next road trip, bobbing along to music while crafting, spending time with loved ones, or with her nose in a book.