Estimated Read Time: 6 Minutes
---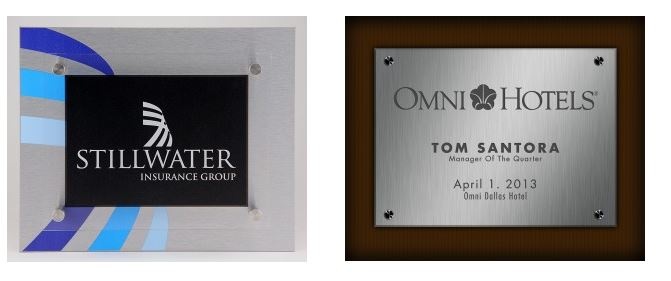 Alright, this may be a simple question but, to some, it's a trick question and answer.
Stand-off plaques are both - they are perfect for signage and recognition.
But how can a product have multiple applications, you may ask? That's based on our creativity and your needs.
Besides, what is a plaque? It's basically a piece that hangs on the wall, with something inscribed or decorated on it, right? So why can't we utilize a plaque for professional, customized signage or award?
I'll go over the applications for stand-off plaques and then you'll understand that this product has rather flexible capabilities.
What are the Signature Stand-off Plaques?
But first, what are Business Signature Stand-off Plaques?
They are unique and premium dimensional plaques that come in the following material selections:
Composite aluminum

¼" acrylic

5/8" eco-friendly boards
Also, you can choose acrylic or glass for the stand-offs.
The polished aluminum stand-off hardware creates the dimensional effect. Full-color UV printing and laser-engraved imprinting are available, allowing for a custom professional piece with your unique branding.
Signature Stand-off Plaques are from our DYR line which means that you will have the following benefits:
Price – Since DYR is our stock with some customization line, it is less complex and intricate. Meaning that the overall price is lower than our completely custom options. Click here to learn more about the difference between our DYR and custom lines.
Turnaround Time – Our DYR lines does not require prototyping or various other major design components, so we can quickly design, send for approval, and produce the Stand-off Plaques. We typically have a fast turnaround time for virtuals (only 1-3 days) and often shipping out to you in only 10 - 12 days after approval.
Lower Minimums – Since these pieces are stock and we will add your unique, custom branding and designs on them, the logical amount to offset the tooling requirements is not quite as high. Hence, our typical DYR minimum is only 3.
Stock – Stock allows us to easily put together your project with faster turnaround times and lower prices. Furthermore, since these are stock pieces, you'll have a consistent product for future repeat orders.
Customization – Whether it's signage for a lobby or an award that needs the recipient's name, logo, company, title, award name, and date, all are common factors. We can work with you to design and decide what you want on your piece to fit your needs, requirements, and branding. Also, we can do variable data on our pieces.
As you can see, our Signature Stand-off Plaques are premium dimensional plaques with the ability to customize to your needs.
Business Stand-off Plaque Signage
You might have noticed in the hero image for this blog, the two Signature Stand-off Plaques are similar in overall shape and parts and yet divergent in design, coloring, and branding – making the look and feel of both completely different.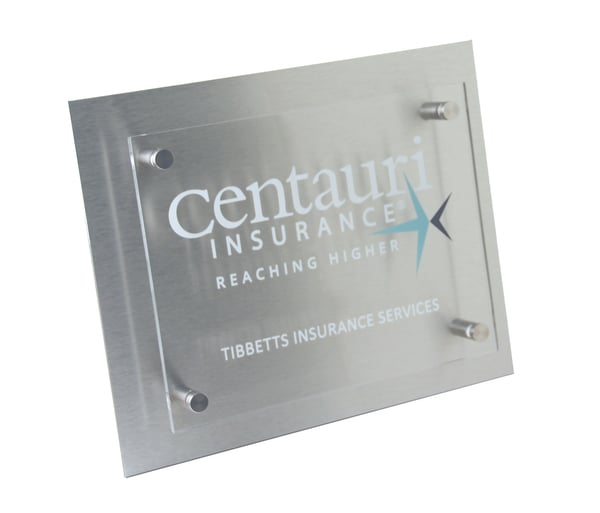 This provides the professional and unique quality that signage demands. Allowing you to decide on the elements that best fit your brand and needs; such as choosing between metal or wood, glass or acrylic, and UV color or laser engraved.
Whether the signage is for an insurance company's lobby or a hospital's conference room, any company or organization can customize the background and foreground of the piece to fit the branding and project needs.
All we need is a conversation and an email of your branding. What's your logo? What are your fonts? What unique design elements do you want to make it yours? Where will the sign be so we can best fit the location and size parameters?
Then, we will design a business sign for you within a few days.
We will ensure the professional quality of Bruce Fox, while designing and creating a product catered to your unique brand standards and project requirements.
Cost-effective and professional signage that can be customized to your needs, dimensions, and branding may seem difficult to find, but it's right here at Bruce Fox.
Signature Stand-off Plaque Awards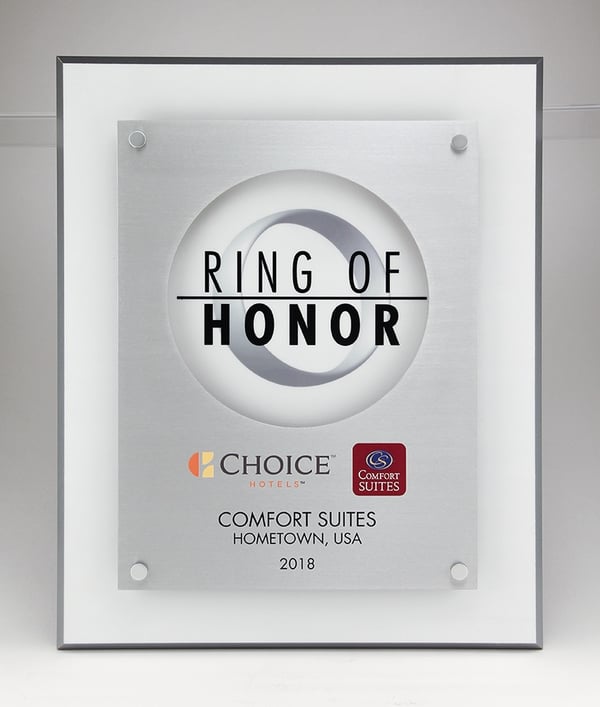 Since you decide what the subject matter will be on the plaques, then you can decide if the plaques will be for awards and recognition or signage.
We design based off our conversations, so when you call in, asking for an award or sign, everyone instantly understand what the goals are for the project.
Furthermore, there are certain elements for an effective award, which must be defined when working on an award. It doesn't matter if it's recognizing an employee, a partnership, or companies, you still have to take into account the branding, project parameters, and target audience.
We've been around for 80 years and have a solid understanding of how to make effective and professional awards that everyone will be impressed with and will want.
As you can see, our Signature Stand-off Plaque collection has various uses, but it all comes down to your needs and our creativity. When we talk, we will discover what you want and need, then design and build the perfect piece for you.
Start a conversation or learn more about our DYR line by checking out our website.
---

Kristina Hublar (formerly Mobley) is your friendly neighborhood Marketing Specialist at Bruce Fox, Inc., which means she is the person behind the keyboard for the social media, emails, website, and other marketing efforts. She's new(ish) to Bruce Fox, but is an Indiana native. In her spare time, you'll find her plotting her next road trip, bobbing along to music while crafting, spending time with loved ones, or with her nose in a book.