Estimated Read Time: 2 Minutes
---

You get a call from one of your clients. One of those that you do regular business with but this time they need some awards for a new employee recognition program they're creating. Except the awards ceremony is next month.
You look at the calendar and realize that's only 3.5 weeks away.
That's where DYR comes in. You don't need to rush around, struggling to find awards; instead, just go to one place with peace of mind.
With our new website, it's easy to find awards that fit your client's needs.
DYR Acrylic Awards
When you think about an award, typically a glass or acrylic award comes to mind. Acrylic awards are classic and elegant, perfect for any recognition or commemorative. They also are available in a variety of shapes and colors, allowing you to personalize to your clients' branding.
When you're looking for an award that takes a production time of typically less than 2 working weeks, then acrylic awards are perfect.
Furthermore, acrylic awards provide the recognition the person or group deserve while still being budget-friendly.
The Benefits of DYR
If you're not sure if DYR is the best solution for you, take our quiz or just ask us.
The benefits of our DYR Line are:
Lower minimums (only 1-3)

Faster virtual turnaround times (typically 1-2 days)

Faster production turnaround times (typically only 7-10 days)

Rush orders available for certain key products
Steps to Order an Acrylic Award
Ordering an Acrylic Award is simple.
1. Choose your Acrylic Award on our website.
There, you can choose your color and size, since all are shown on our website.
Bonus: You can compare products or create a flyer for your customers.
2. Choose your quantity.
3. Know your delivery date.
4. Request Quote.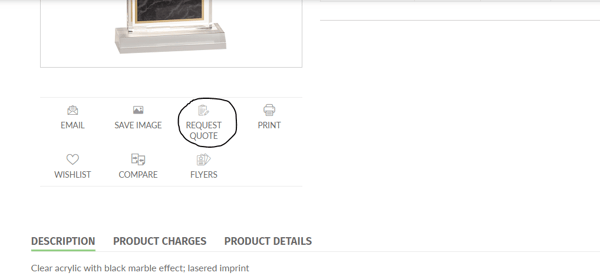 5. Work with your DYR Customer Service Specialist to customize your piece.
This includes the logo, addresses, if there's any variable data, and so on.
It's as simple as that. So, if your client calls asking for an award, go check out DYR's acrylic awards.
---

Kristina Hublar is your friendly neighborhood Marketing Specialist at Bruce Fox, Inc., which means she is the person behind the keyboard for the social media, emails, website, and other marketing efforts. In her spare time, you'll find her plotting her next road trip, bobbing along to music while crafting, spending time with loved ones, or with her nose in a book.