Estimated Read Time: 8 Minutes
---

Design a custom award from scratch? It must mean that you pick from a few colors and throw in some "custom text" and a logo, right?
Not exactly.
That's a DYR project, and that's what we call "customizable stock."
A true custom project is completely different. How much? It's like comparing building a house from scratch versus buying a pre-built home.
When my parents bought their home, it was already built and they could only make basic changes due to the neighborhood policies and property capabilities.
However, my friends are building from scratch. They have the option of completely customizing a floor plan they liked or they can start with a blank sheet of graph paper and design something completely personalized to them and their needs.
That's the difference between custom to custom stock - some changes versus a blank sheet of paper.
Let's Be Honest Here
Now, there's certainly a budgetary and time difference between custom and stock.
Stock is great for small budgets, less custom requirements, and fast turnaround times.
However, the nice thing about custom is that the award is built to suit – including reasonable budget objectives (we both know that we can't make a custom award for only a $1). The whole point with custom is value and you get what you pay for –sometimes even more. The quality, personalization, alignment with their needs, and "wow factor" don't even compare.
We all know that timing, project needs, and constraints will dictate the possible solutions, which are: a stock option, being completely custom, or even a hybrid.
So, how do you know which you fall under? You can take our simple quiz in our blog or you can reach out and ask. Just explain what your project is and we will guide you through the process and options.
A Custom Award from Scratch
Alright, you know that you're going the completely custom route. Your customer wants something more than the typical plaque with the same old look, feel, and wording. But where do you start?
Step 1: Conversations
Don't worry, we've developed 20 questions which you can use during your meeting to delve into their wants, needs, and even the DNA of the brand - get your recognition questions here.
Once you get a good handle and understanding on what the client wants and needs, then we have a conversation. Be sure that you can answer our questions, such as budget, quantity, and more that are listed here which we need to deliver the best product and provide accurate pricing.
Those insights and questions from the conversation with your client make all the difference, it allows us to tap into the brand and needs to create the best product and options.

Step 2: Creative and Design
So, everyone has the information, but what now? Now comes out the blank sheet of paper. From that in-depth conversation you had with your client and our Q & A, we start coming up with ideas.
We have experienced artists and craftsmen on staff who have a bit of a business side, too. Please note that it takes time to tap into the perfect "it" factor that makes everyone excited, just like it takes time to write that perfect tagline which embodies the brand in a few lines. Yes, we do have 80 years of experience developing and creating designs that fit, but if you and your client are willing to have an open dialogue, we will be able to quickly create that perfect piece.
This is also a good time to consider if you want custom packaging for the awards to be given out in.
Step 2.5: If Needed, Prototyping
So, we've had conversations and you'll see the custom designs we have created from scratch, whether they are drawings or renderings, you and your client might request a prototype. This is typical if it's complex or truly new and innovative. We all want to make sure you feel good about the product.
If the company's product is going to be incorporated in the award, this is also when we receive samples to find the best way to keep its integrity while elevating it to award status.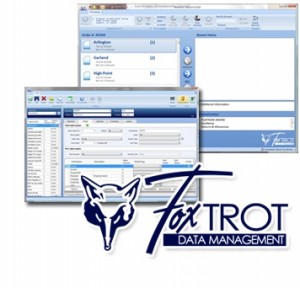 Step 3: Ordering and Sending Data
Does your client have a few tweaks? Ok, we got this.
Does your client love it? Great! Place the order.
We will need confirmations for the date, quantity, and other line items, such as the names, addresses, titles, and other information for personalization and shipping.
You send the data in a clearly marked spreadsheet, we will QC it. Of course, we don't know what was misspelled in the sheet and if Rusty should be spelled Rusti instead, or if Carla is a Sales Manager instead of the Sales Specialist listed, we just won't know. So, please be sure that the addresses, titles, names, and such are confirmed on your end. On our side, we make sure everything goes into our in-house created personalization system.
Since we personalize hundreds of thousands of products each year, it was vital for us to have a robust data management platform. Hence, we created a proprietary system for managing data called FoxTrot (Transactional Recipient Order Tracker), a programmed database for receiving, storing, scrubbing, and linking recipient data seamlessly throughout our operations. FoxTrot maintains the integrity of critical data and feeds it into our production and outbound shipping systems in proper sequence for flawless execution of accurately-inscribed products.
Hence, all you have to do is send the Excel sheet and we've got the rest.

Step 4: Production
You sit back and relax as we create your masterpiece. Now, we will still keep in contact with you in case questions arise; however, this is the easy part for you.
Meanwhile, we make the molds, dies, patterns, and tooling, and then actually create the product by carving, hand painting, etching, and any of our other capabilities in our toolbox. We also make and work from strict engineering master "blueprints" that constitute every detail of how each product is made, assembled, packed, and delivered. This ensures high quality and consistency. We are craftsmen that are precise and proud of our expert quality.
Depending on the product, the lead time and production time varies, but we will give you a range of time and we stick to our promised delivery dates.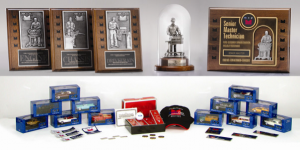 Step 5: Kitting and Warehousing
Do you want the award to be sent out with other products, such as cards, candy, hats, patches, or even a line of beauty products? We've done it all. We have a dedicated warehouse to storing and packaging the awards, whether the awards are in the custom boxes we created, shipped with already created company jeckets, or just adding in a personalized card we printed for you.
This means that you don't have to have it sent to your office where you have to combine it all, or have it all sent to another company, we can take care of it all in-house for you.
Step 6: Shipping
When we are ready to ship, we can either ship through UPS under our tracking number or under a preferred vendor of yours with your tracking number. Either way, we will send you a tracking number (or numbers) so you will always know where the products are in transit.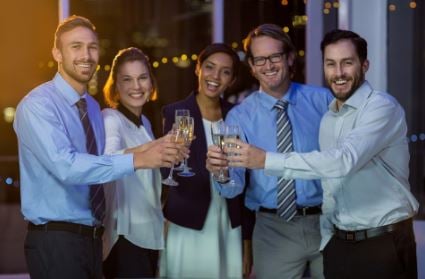 Step 7: Receiving and Celebrating
You, your clients, or the recipients that had the awards "desk dropped" receive their custom awards.
Now, don't worry, you are not abandoned as soon as we ship. In case there are any hiccups, we are still available for questions or issues. We're here to be your partner and always here to help.
Finally, your clients will have their awards and can celebrate! Enjoy the awards ceremony, the company party, or other ways of showing appreciation. That's the beauty of awards, there are so many ways to present and show appreciation with custom awards. Whether it's on a tropical island with the top sales personnel or a yearly meeting that recognizes the top technicians – enjoy and celebrate. Your custom award is sure to please and "wow" the crowd!
That's what sets us apart. We are a truly custom agency-style company. You don't pick from a catalog and change a few things, you start with a blank sheet of paper and we have conversations to create the perfect piece to fit the needs, wants, and constraints of the client.
What are the next steps? You can view examples of our work in our portfolio or reach out to start a conversation.
---

Kristina Hublar is your friendly neighborhood Marketing Specialist at Bruce Fox, Inc., which means she is the person behind the keyboard for the social media, emails, website, and other marketing efforts. She's new to Bruce Fox, but is an Indiana native. In her spare time, you'll find her plotting her next road trip, bobbing along to music while crafting, spending time with loved ones, or with her nose in a book.