Estimated Read Time: 4 Minutes
---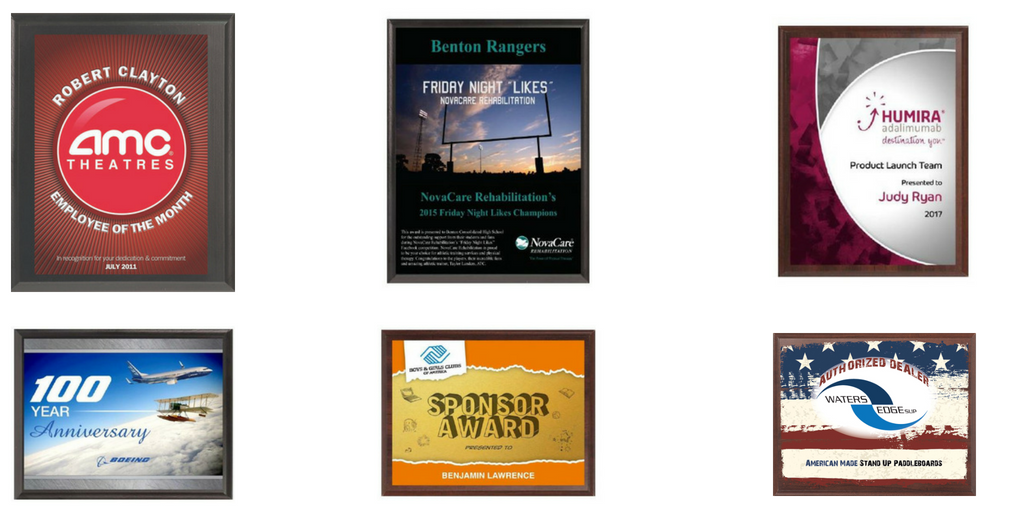 You see them at major stores– Employee of the Month, Authorized Dealer of XYZ brand, or the Company Promise.
Plaques are a standard in our culture.
And it doesn't matter if you've seen the Employee of the Month episode on the Simpsons or the Employee of the Month episodes on SpongeBob Square Pants; you know that these plaques are coveted titles that people will compete for. They love having their names on the wall of pride.
According to Gallup, when asked what types of recognition were the most memorable, respondents emphasized six methods in particular:
Public recognition or acknowledgment via an award, certificate, or commendation

Private recognition from a boss, peer, or customer

Receiving or obtaining a high level of achievement through evaluations or reviews

Promotion or increase in scope of work or responsibility to show trust

Monetary award such as a trip, prize, or pay increase

Personal satisfaction or pride in work
The Plaque to Rule Them All
Alright, maybe not rule them all, but it certainly surpasses the capabilities and uniqueness of many.
Despite the obvious need to employee recognition, the Full Color Value Plaques can be used for more than awards and recognition, such as company anniversaries, authorized dealers, partnership recognition, company motto or promise, signage, corporate branding, as a sales tool, and much more.
Whatever the reason for the plaque, it must fit the needs, branding, and customization of the client. Pretty straight forward, right?
Yet some plaques force you to only choose one background color and one color for the copy. If you're lucky, you can put on a logo. How boring.
When Your Client Wants More Than a Solid Stock Plaque
If your client wants a more customized plaque than the standard solid colors, what do you do?
Full Color Value Plaques – it's a shameless plug because our DYR Full Color Value Plaques offer the best value in the industry. The graphic is printed directly on the plaque with high-quality UV link in a full-color process.
The best part? These plaques are fully customizable with the design of your choice.
If you want the copy to be curved or if you want the background to be a pattern, we can easily comply.
5 Steps to Create a Full Color Value Plaque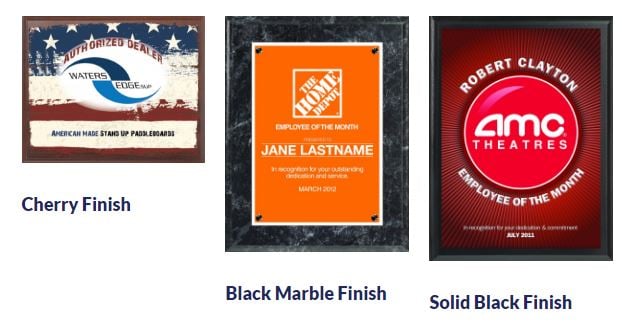 The design process for your custom Full Color Value Plaque is easy.
Choose from one of our 8 different sized plaques.

Choose a finish that you want on your plaque: Cherry Finish, Black Marble Finish, or Solid Black Finish

What do you want to say on the plaque?

Work with the DYR Relationship Manager to create a custom design to suit your needs and branding.

Do you need an easel so the plaque can sit on a desk? Do you need special hangers to hang the plaque on a cubicle wall? Or do you just need the usual and regular hangers?
Simple, right? And at the end, you will have a cost-effective and customized plaque that is unique and effective.
Bonus: Through DYR, you will see lower minimums (only 3) and faster turnaround times (virtuals in 1-2 days and shipping out to you in typically only 7-10 days). Also, Rush Orders are available for our Full Color Value Plaques.
See more products from our DYR line on our website. Our DYR line is different from our custom work – learn more about the difference here.
---

Kristina Hublar is your friendly neighborhood Marketing Specialist at Bruce Fox, Inc., which means she is the person behind the keyboard for the social media, emails, website, and other marketing efforts. She's new to Bruce Fox, but is an Indiana native. In her spare time, you'll find her plotting her next road trip, bobbing along to music while crafting, spending time with loved ones, or with her nose in a book.