Estimated Read Time: 5 Minutes
---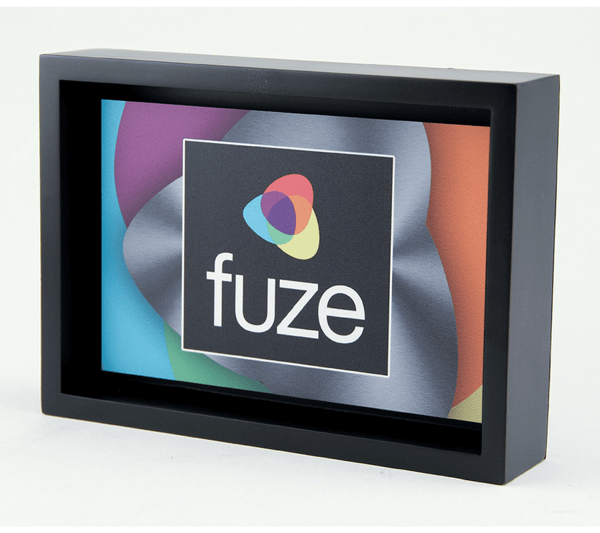 Have you met The Box yet? It's a nice box.
But seriously, this is not a box that you ship things in and then hand over to your cat. The Box is new to our lineup and has quickly become a popular DYR item.
This could be because of its ability to define a brand in a small but professional manner or due to its recognition prowess while taking up minimal desk space.
But First
Before you get started, we should define what DYR is.
Bruce Fox has three distinct lines – our Custom line, our Classic Solutions line, and our DYR line.
Custom means designed and built from scratch to meet the needs of the client, from an award in the shape of the logo to a unique donor wall that fits the wall, room's color scheme, and environmental branding perfectly, and plus everything else in-between.
Many are familiar with the classic awards and recognition shapes with a little engraving on it, such as loving cups and desk clocks. That's it- those classic award and recognition pieces and engraving needs are our Classic Solutions.
DYR is in the middle of our offerings– our stock pieces with a splash of custom. Pick from a large catalog of products and tweak the colors, content, and basic layout for your needs.
The benefits of a DYR piece are:
Price – Since DYR is less complex and intricate because it's a stock piece with some customization, the overall price is lower than our completely custom options.
Turnaround Time – Since there aren't any prototyping and major design requirements, we can quickly design, send for approval, and produce the product. We typically have a turnaround of virtuals of only 1-2 days and shipping out to you in only 7-10 days.
Lower Minimums – Since these are stock, the logical amount to offset the tooling requirements are not quite as high; thus, our typical DYR minimum is only 3.
Stock – Having product options in stock for us to easily put together for your project allows for fast turnaround times, as well as lower prices. This also means a consistent product for future repeat orders.
Customization – Recipient name, logo, company, title, award name, date, and other factors are common on an award. We can work with you on what you want and how to best fit the design you've chosen. And don't worry; you can have personalization for each award, too.
The Name is The Box, The Shadowbox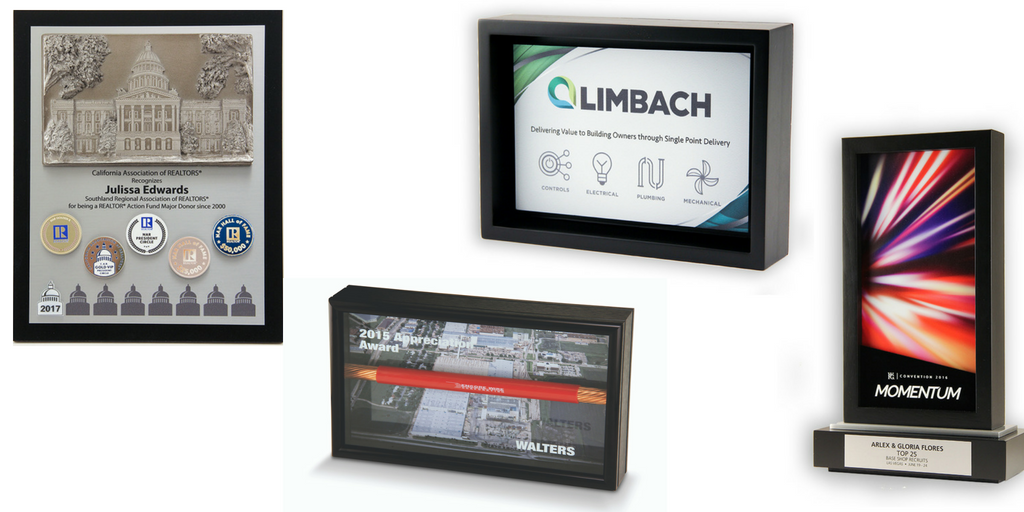 The Box is our version of a shadowbox; however, it's for more than just sticking your knickknacks in on the wall. We have put a twist on it to be unique for three specific purposes: branding, recognition, and continuity programs.
1. Desktop Environmental Branding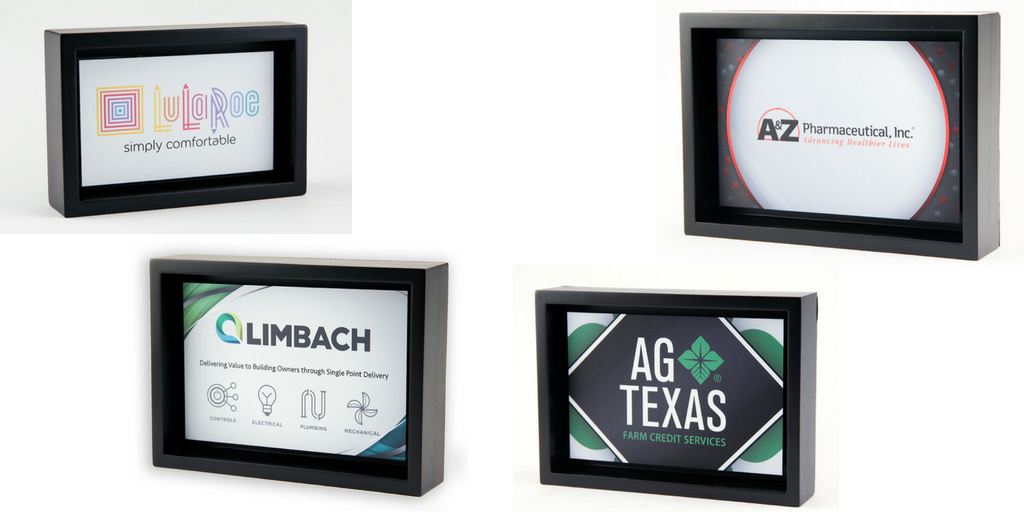 As you can see, the desktop branding can come in a variety of colors and sizes. You can choose your background, logo, coloring, and the content.
Whether you want just your logo, put a message, or your service offerings. It all depends on your needs.
The Box is perfect for counter-top signage and branding because it takes up so little space while still providing that professional look.
2. Unique Employee Recognition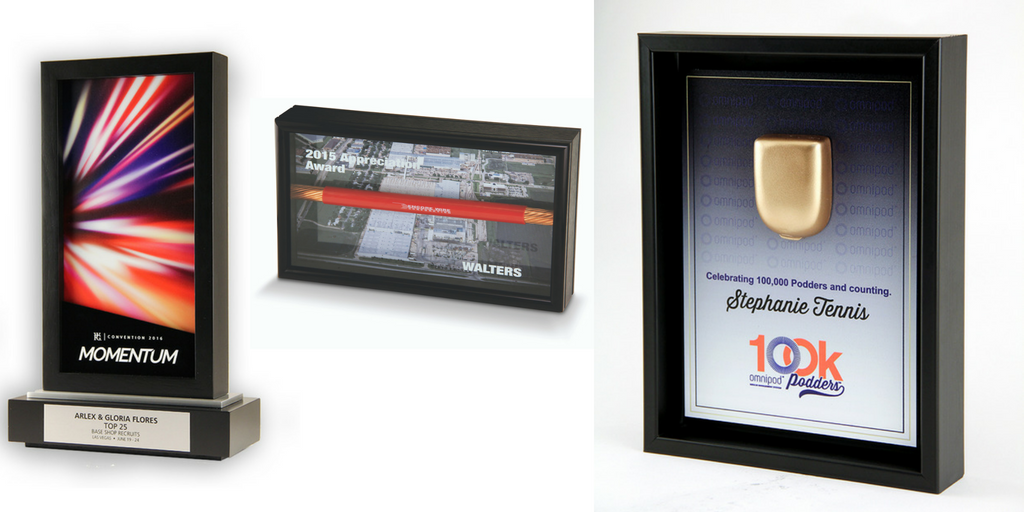 A Box can change directions, horizontal or vertical, and it can be added to in unique ways. The conference recognition on the left lights up, the middle recognition has a real piece of wire that the company makes, and the far right recognition has a plated version of a piece that their salespeople sell.
Do you see how unique The Box can be? It can transcend the DYR segment into the custom capabilities, if you need; while still have a clean and professional nature.
Furthermore, The Box can assist you to meet the entire effective recognition checklist, in addition to being easy to fit on a desk or shelf. You will have a personalized award with the "wow effect" despite being more "simple" compared to a completely custom award.
3. An Ongoing Award Program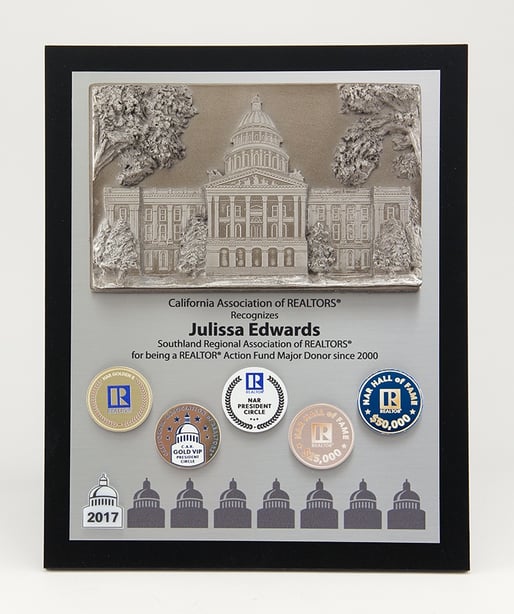 It's sometimes more cost-effective to choose an award that can be added to each year. Some awards vary in recipients, but if the recipients will be receiving the recognition every year, then an ongoing and continuous program might be better suited.
These are more commonly found for re-certification, management or education programs, years of service, memberships, donations, and other forms of recognition that are would take up too much room if there was a large award each time. It sits on a desk of a shelf, easily seen, but not cumbersome.

As you can see, The Box is more than what the simple name seems. It has various uses; however, it is best suited for those who have little desk space and want a professional, clean look.
Learn more about the DYR version of The Box or check out our more custom versions of The Box in our portfolio. Not sure which route to go? Reach out and we'll be happy to help.
---

Kristina Hublar (formerly Mobley) is your friendly neighborhood Marketing Specialist at Bruce Fox, Inc., which means she is the person behind the keyboard for the social media, emails, website, and other marketing efforts. She's new(ish) to Bruce Fox, but is an Indiana native. In her spare time, you'll find her plotting her next road trip, bobbing along to music while crafting, or spending time with loved ones.