Estimated Read Time: 12 Minutes
---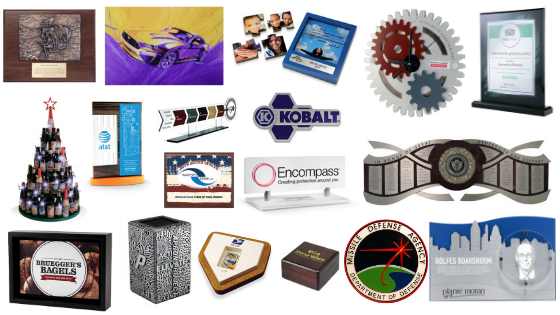 It all started with an artist -a commercially trained artist whose early career was in advertising in New York as well as a sculptor and self-described "bon vivant."
Throughout his travels, Fox had learned the traditional ways of metalworking and he was eager to bring his knowledge to the post-Depression American market. In 1938, he founded the company which still bears his name as the outlet for his artistic energies – Bruce Fox, Inc.
The Story of Bruce Fox, Inc.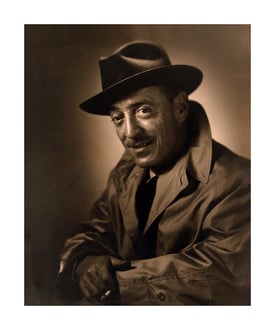 Working and experimenting with the most high-tech material of the era – aluminum – Fox began creating works of art, primary for general décor and use in the home.
However, though the 1960's, as the appeal of his art diminished in an era of changing tastes, Fox's company found itself at a crossroads.
A further tribute to the artist's entrepreneurial spirit, Fox realized corporations and organizations were in need of creative products to serve as symbolic recognition. The focus shifted, and Bruce Fox, Inc.—founded on the cornerstones of art and craft—began designing and manufacturing custom designed award plaques and trophies for the corporate world.
Today, Bruce Fox, Inc. is comprised of around 100 skilled craftspeople and professional staff who are devoted exclusively to serving the corporate recognition cause. Like Bruce in his day, we are not making stuff we hope people want, we are creating ideas and crafting products people need. It's a stark difference between placing a logo on an SKU that's been on the shelf since it was made several months ago and 6,000 miles away, and creating a unique custom award that is indigenous to the message of the presenter and psyche of the recipient.
Custom Awards

Since the 1960's, our forté has been the design and production of symbolic awards presented to individuals in honor for specific performances and achievements.
We understand the principals of human behavior as it pertains to recognition, and we bring that expertise to life with tangible and lasting products within a consultative and agency environment.
Despite our expertise, we make more than just awards – much more.
Custom Trophies

At Bruce Fox, the art of fabricating custom and symbolic trophies from raw materials is a highly-specialized trade that we excel in. As our work has shown over the past 80+ years, Bruce Fox is without peer. We have had the privilege to design and make highly-recognizable trophies throughout the years.
Now, we know trophies can mean two different things.
1. Competition Trophies. Sports, racing, music, and other competitive-style environments need trophies for the winners.
Bruce Fox, Inc. is experienced in creating trophies, often with corporate sponsorships, with a purpose, theme, or symbolism.
Fun Fact: Did you know that we make around 30-40% of NASCAR trophies?
Yep, that's us – high-quality and unique, custom trophies.
2. Trophy Value. A popular buzzword within the employee engagement arena is "trophy value."
It's about giving high performers a platform of recognition that delivers trophy value, which is a primary goal for any program.
Yet, despite using the term trophy value, few people think about using a real trophy for the recognition. Doesn't a trophy hold trophy value? That's where the phrase comes from, right?
Custom Plaques

Our company's commercial business started with a plaque to recognize top performers in the sales and distribution divisions of Sterling Beer. Did we mention that was back in 1951?
Generations later, we remain the premier creator of award plaques servicing a multitude of industries and types of achievement.
Custom Commemorative & Event Gifts

Honoring an event, or other important achievement, is a big deal. Why else do you think event planning is a $5 billion industry in the US?
Corporate anniversaries, brand and logo changes, mergers and acquisitions, product launches, project completions, celebrating partnerships, units or dollars sold, or other benchmark organizational occasion or results are often celebrated. And each deserve more than a pat on the back and a gift card or a hat with "#1 salesperson" on it.
Instead, try a custom commemorative or event gift that is unique to the occasion and accomplishment.
Throughout the years, we have found two of our offerings to be popular for this segment.
Desk Drop Shipping. A "desk drop" means that a large number of people receive a directly drop-shipped gift simultaneously.
Custom Packaging. Packaging is a key element in amplifying the impact. Especially if it's personalized or has a creative element.
Custom Honor Walls & Lobby Installations

Veteran Honor Walls, Donor Walls, Achievement Walls, Employee/Team Member Walls, On-Duty Team Member Rosters, Branded Lobby Installations, Information Walls, Certification Walls, or Flexible and Easy to Update Walls or Installations – each of these are popular examples and uses for Honor Walls and Lobby Installations.
Typically, large-scale recognition displays are added to or modified over time as more people meet performance or donation criteria. We take this into account when we design Honor Walls and Lobby Installations. Our designs can include elaborate and cleverly flexible elements and are engineered and constructed to last.
Custom Signage

Whether it's a small countertop sign or an elaborate sign to hang on the wall, professional signage is expected for all businesses and organizations now.
And from wayfinding and dedication signage to branded messaging, authorized dealer signs, or the typical branded signage, we can make it all.
We can render logos in a variety of materials, including glass, our exclusive Foxite, metal, or other materials. They can be simple, small-scale imprints, or they can be large, dimensional and elaborately-constructed installations.
Custom Point-of-Purchase Displays

P-O-P Displays are about effectively delivering an impactful idea or message. To do that, the message or idea must be delivered in a unique and creative way while still representing the brand.
Our renowned creativity and craftsmanship are a perfect fit for expressing consumer-facing messages in a tangible form. The look, feel, scale, and durability are all how we can assist you in delivering that message or idea.
Custom Seals

Have you ever traveled internationally? You likely passed a seal for the U.S. Department of Homeland Security. We are proud to produce those.
We are also the proud producers of the podium seal for the President.
We have created patterns and molds for countless organizations, government, military, and law enforcement agencies.
That's a testament to our quality.
Our seals are dimensional, hand-painted, USA-made, and molded in our high-performance urethane material for lasting display.
Custom Marketing & Promotional Products

These are not awards or gifts, but tangible items that accompany and highlight a specific call to action.
Because a call to action is the point for promo products, right?
But rather than worrying about how many months a promo product will be kept, you want to ensure it has an unmatched "stickiness" factor. That's made possible by an interesting or symbolic promotional item – it provides marketers with that elusive "unique sticky" factor.
Mission Statement Displays

Bring your organization's purpose to life.
In a dimensional, quality, and unique way, deliver your impactful message with your audience – your employees, customers, and stakeholders.
Like an advertiser, you want your message to be delivered in a memorable and resonating way. We can provide unmatched resources in creating a unique piece to any brand and culture that fully represents you.
Architectural & Decorative Elements

Since Bruce Fox is a design-build firm, we can furnish unique solutions for an architectural and design aesthetic.
So, when a display is simply an added feature for a structure or space, or when it's purpose-designed and an integral part of the environment, Bruce Fox can help.
Product Replicas & Miniatures

People, places, and things – all are nouns, and all are suitable objects for creating replicas and miniatures.
We can achieve spot-on renderings of products, packages, founders, mascots, buildings, vehicles, and so much more. The possibilities are endless!
Custom Corporate Art

Have you recently visited a waiting room or office lobby? What do you remember about their art on the walls?
Likely not much, right?
That's because it's probably mass-produced in a nondescript frame.
No personal touch for the brand. Nothing unique.
We can transcend the expected and provide corporate art that is properly themed, scaled, colored, and displayed because it is produced from original and collaborative concepts. We can create custom art that represents your company, products, and culture for all to see.
Also, we have competitively-priced, print-on-demand capabilities for unmatched flexibility.
As you can see, awards are a small portion of the types of products we make. Our range includes a dozen broad categories, each unique and custom to the target audience, brand, and needs of the client.
Want to learn more about us? Check out the services we provide or our capabilities, as well as read our blog.
---

Kristina Hublar is your friendly neighborhood Marketing Specialist at Bruce Fox, Inc., which means she is the person behind the keyboard for the social media, emails, website, and other marketing efforts. In her spare time, you'll find her plotting her next road trip, bobbing along to music while crafting, spending time with loved ones, or with her nose in a book.