Estimated Read Time: 3 Minutes
---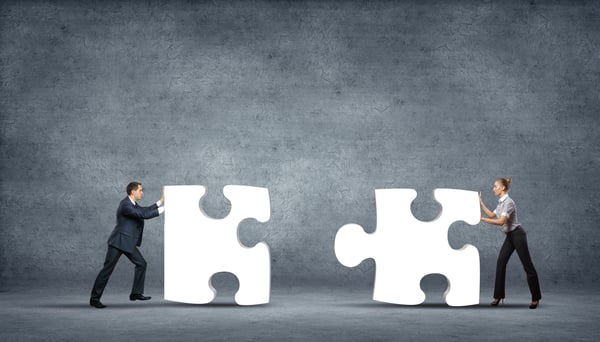 This year – like any year – is about growing clients and increasing sales. Every Promotional Products Pro is working to add numbers because the more products you push, the bigger your paycheck gets, right? That's typically the reality of sales.
So, you have two options on how to grow this year:
Increase quantity – This means increasing the number of clients or number of products being sold.

Increase quality – This means selling a higher quality of products that will increase the ticket price.



If you want to increase quantity, that is not what we're addressing today, but I do recommend checking out our new DYR website.
In regard to the second option - to increase quality - we're going to take a deeper look.
Increasing Sales by Increasing Quality
Similar to the dilemma of if you should put your efforts toward a bunch of leads or focus on a few solid ones, the overall consensus is that it's best to not waste your time. That's why most sales articles recommend quality over quantity leads.
By increasing the quality of the products that you offer, you will be able to increase sales. However, I am not suggesting to start peddling expensive things and slapping a logo on them. Instead, consider adding custom options to your sales mix.
Selling Custom
Custom is a different breed from "the usual" in the industry. It's more than "insert logo here" on a stock piece and that's it. Read about 5 common misconceptions about custom awards here. Custom are products – specifically awards – completely built to the client's needs, just like a custom home.
The way we do it at Bruce Fox, we start with a blank sheet of paper, then design and build a custom piece from scratch.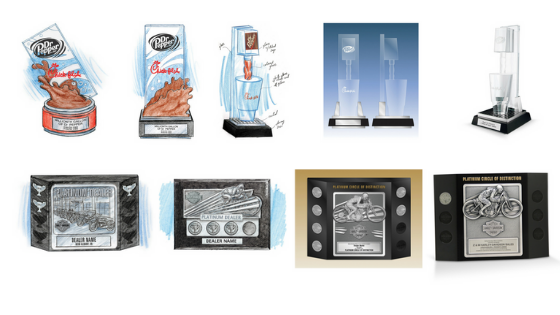 It takes more thought and care, but it also typically has a higher yield. Companies want that unique piece that represents them and their brand – and are willing to pay for it.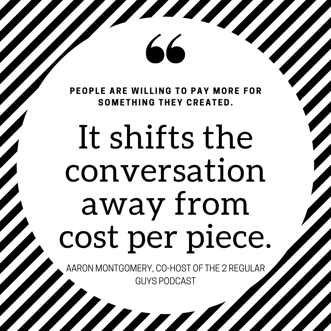 This quote shows that when customers assist in creating a piece that is unique to them, they will feel a sense of connection and pride. Thus, turning the conversation away from price and toward a more meaningful and fruitful encounter.
Which, as mentioned in The Future of Promo blog, custom is where this industry is going and will only continue to do so because companies (and people) are searching for it. We all know that you can buy anything custom, no matter the industry. And price sensitives are often diminished. So why not capitalize upon that in our industry?
Furthermore, you will do more than just stand out from an over-crowded arena of promo professionals. You can move into the VIP spot where you can guide the pricing, timeline, and other elements because there's nothing else like it out there. Stop selling the usual and add something unique and exciting to your sales mix.
Want to get started? We have some resources to help or you can reach out to start a conversation.
---

Kristina Hublar is your friendly neighborhood Marketing Specialist at Bruce Fox, Inc., which means she is the person behind the keyboard for the social media, emails, website, and other marketing efforts. In her spare time, you'll find her plotting her next road trip, bobbing along to music while crafting, or spending time with loved ones.