Estimated Read Time: 4.5 Minutes
---
With the holidays comes the onslaught of customers who have ghosted for the past 11 months and what seems to be a mountain of orders from all of your other various clients. At least that's if you've been working on drumming up business, growing your current clients, and building your prospect list all year long.
Getting all of those orders and customers is fantastic, but not so much on your timetable. You only have so many days until the end of the year – here's a countdown clock if you really want to feel rushed.
Now, if you've been reading our blogs, you'll know that we've been avid proponents for getting holiday orders in early. By doing so, you won't have to fight tight timelines, limited stock, crazy expatiated shipping costs, and other reasons here.
However, November is now upon us and I'm sure you're frantically searching for products that will please your customer while still having a fast turn-around time. That's where our DYR line comes in.
The Benefits of DYR
DYR is not our fully custom line, but stock with a splash of custom. This means that our DYR line has some rather attractive benefits for this time of year:
Price – Since our DYR line is stock with some customization, compared to our complex and custom-created intricate pieces, the overall price is lower than our completely custom items.
Turnaround Time – Unlike some of our custom work, our DYR line does not require major design requirements or prototyping; thus, we can quickly design, send to you for approval, and produce the product. We typically have a turnaround time of virtuals of only 1-2 days and shipping out to you in only 7-10 days once we've received approval.
Lower Minimums – Since our DYR line is stock, the logical amount to offset the tooling requirements are not quite as high. So, our DYR minimum is typically only 3.
Stock – As you know, stock product options means projects can be easily put together and that allows for faster turnaround times and lower prices. Furthermore, repeat orders are simple and you know you'll have a consistent product each time.
Customization – Common elements on awards are recipient name, company name, logo, award name, date, and other branding factors. We can work with you to create what you want with the best fit on the design you've chosen. Bonus, we can personalize each award using variable data, too.
Popular DYR Items for the Holidays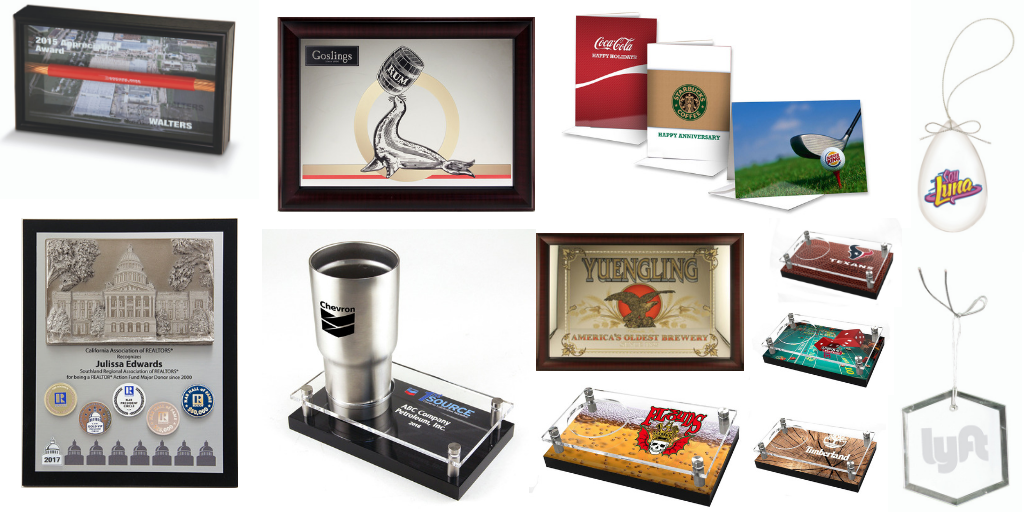 As we mentioned earlier, the holidays typically leave you scrambling for items that have quick-turnaround times, are cost-effective, and meet the needs of your clients.
As you are squeezing your brain for ideas, we've compiled a short list of our most popular DYR items for the season.
Being the holidays, branded ornaments are an easy and popular product. Since all of the other products already have easy-to-get information by clicking on their links, we will delve into promotional Christmas ornaments.
DYR Branded Ornaments: Easy Custom Christmas Ornaments
Our ornaments are crystal and etched with the option of color. The pieces can include logos, personalization, or even a message, depending on the shape and other requirements.
Furthermore, the ornaments come packaged in a lined gift box, but if you would like a branded gift box, we can work with you to make that happen.
What are the steps to order branded ornaments?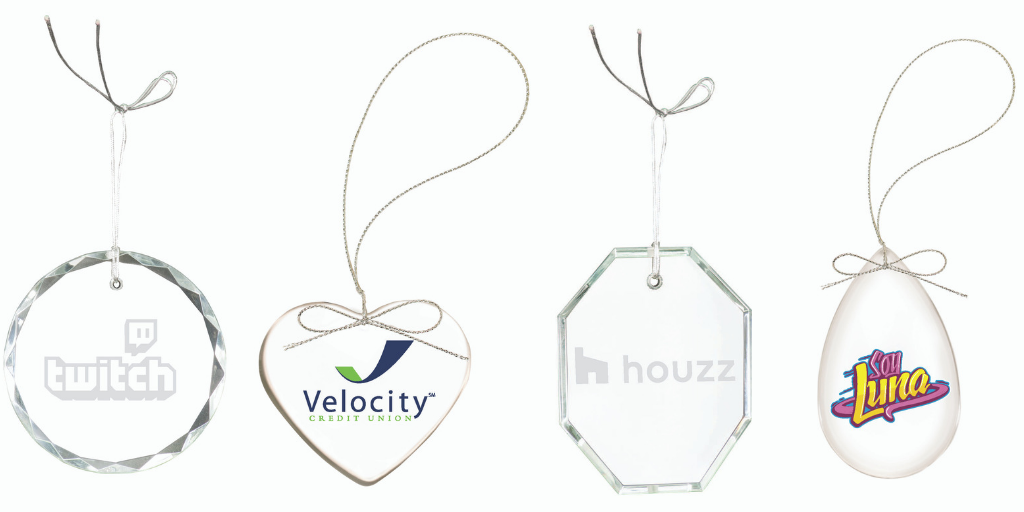 Of course, there's the usual billing and so on, but these are the steps to create your custom Christmas ornament with our DYR team.
Choose your ornament shape - there are a variety of shapes and sizes to choose from.

Do you want color? If so, what?

What do you want your ornaments to have on them? Send the logo and other content you want on the ornament. We will advise you on what is plausible with the size and shape of the ornament you chose. Any other unique requests?

How many do you want?

Are the boxes that they come in perfect or do you need a custom, branded one?

How do you want these to be sent? Do you want them to be shipped to one place or multiple locations?
See how simple that was? No more than 6 steps and you have branded ornaments for your clients – perfect for this busy season.
So, rather than pulling your hair out due to the barrage of inquiries, have a partner who you can reliably help you through this time of year.
Good luck and happy selling!
---

Kristina Hublar is your friendly neighborhood Marketing Specialist at Bruce Fox, Inc., which means she is the person behind the keyboard for the social media, emails, website, and other marketing efforts. She's new(ish) to Bruce Fox, but is an Indiana native. In her spare time, you'll find her bobbing along to music while crafting, spending time with loved ones, or with her nose in a book.