Estimated Read Time: 4 Minutes
---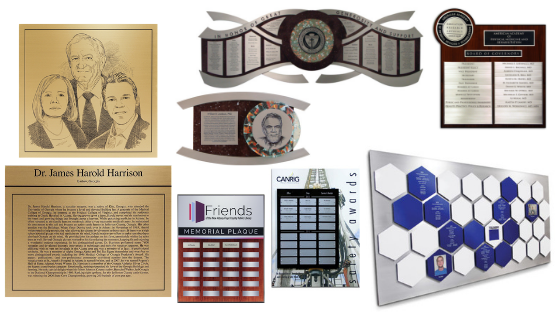 So, when you think of an honor wall, what do you imagine?
Do you envision universities, hospitals, or churches honoring their donors?
Do you think of Fortune 500 companies showing off their top salespeople?
Do you picture organizations and companies displaying their board members?
All of those are common and highly popular versions of honor walls.
Honor Walls: Custom Needs and Custom Solutions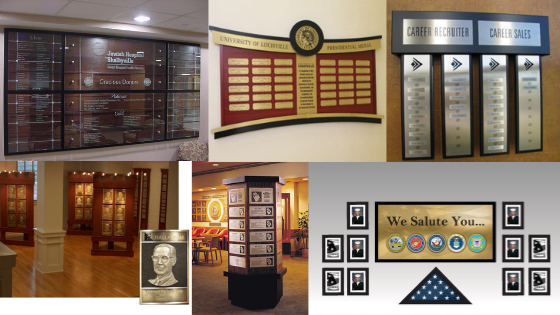 However, when you were picturing versions of honor walls, did you also consider…
Retirement communities displaying their veteran patrons?

Lobby displays for companies with interchangeable recognition and content that's easy to update?

Areas dedicated to full environment honor displays that are purpose-designed and an integral part of the space?

Honor walls that are interactive?

Universities showing off their famous athletes?

Achievement or certification walls touting various team members?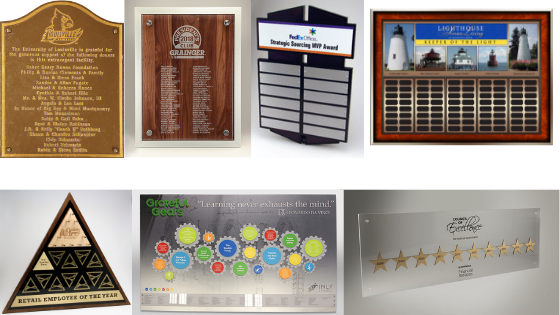 Although all of these are versions of honor walls, each are unique in their own way.
Branding, colors, shapes, sizes, styles, subject matter, and so much more differ from piece to piece. That's the custom difference.
There are countless needs for honor walls or displays, and there are countless solutions – because we are a custom design-build firm.
From Custom Honor Wall Designs to Custom Honor Wall Creations

Similar to our custom awards, we can design an honor wall from scratch. This photo shows the initial design phase (left) to the finished product (right)– which is interactive, and the gears do spin!
Hence, whether you need large-scale recognition displays, which can be modified over time as people meet performance criteria, or specific elements engineered to last, we can make it all.
A Brief Walk-through of Our Custom Process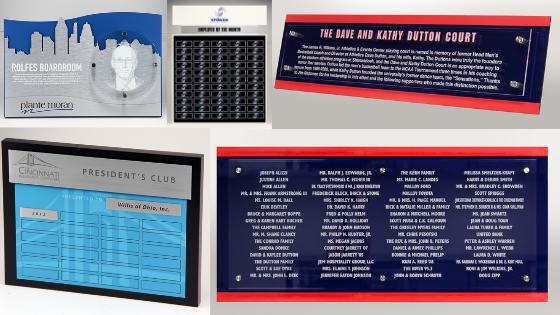 It all starts with a conversation; our Relationship Managers will work with you to figure out the basics. Here are just a few points we will need to know…
If you're actually looking for a stock or a custom piece. This also considers budget, timeline, and your other needs.

What is the purpose for this honor piece?

Are there specific themes, logos, and other design elements?

What will the target space be like?

What features and enhancements are you interested in exploring?
After getting the necessary insights, we then break out the blank sheet of paper. Our design team takes into account your needs, requests, answers to our questions, and other factors – designing a custom piece from scratch.

After a design has been chosen and the PO received, your custom piece will go through our Bruce Fox process. From the engineering department to the various artists – painters, sculptors, polishers, and more – that are appropriate for your piece. Of course, there's also the usual – shipping info, product data sheets, and so on, too.
Want to learn more beyond this brief overview? Here are some blogs to check out.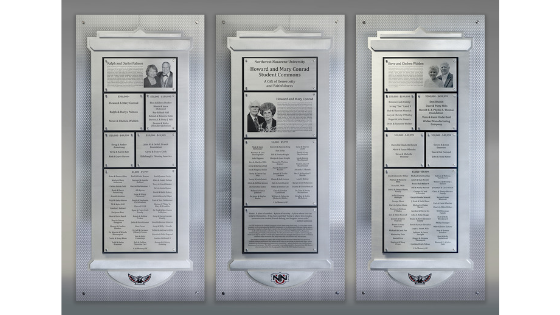 But as you can see, honor walls are more than the standard stock wall displays – you know, the "logo and go" stuff.
There are custom options to meet the needs of the customers and the space – even if there are exact dimension and branding requirements!
That's the beauty of custom.
---

Kristina Hublar is your friendly neighborhood Marketing Specialist at Bruce Fox, Inc., which means she is the person behind the keyboard for the social media, emails, website, and other marketing efforts. In her spare time, you'll find her plotting her next road trip, bobbing along to music while crafting, or spending time with loved ones.