Estimated Read Time: 9 Minutes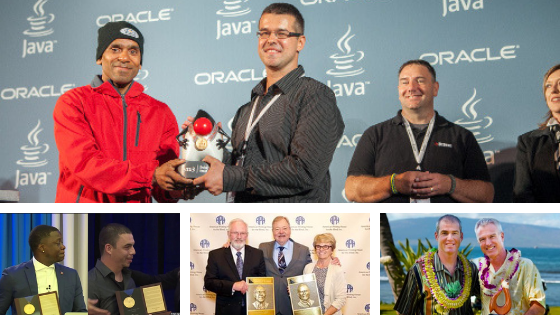 When building an awards program, it can feel overwhelming. However, you know that having a well planned and effective recognition program increases value, desirability, employee retention, and much more.
So where do you start when building an effective awards program?
Since every organization is different, we will provide a series of questions to help get a program started, then you can grow and develop your program as needed.
These questions will assist you in defining and refining the program, which will make writing out the framework and overall program plan a breeze.
15 Questions to Ask When Creating an Employee Awards Program
Before you start assembling a committee or asking for submissions, you need to define the program. You must ask yourself some hard (and not so hard) questions…
1. What do you want to get out of this recognition program?
What are your goals? What objectives does your recognition program serve within your organization?
Consider what's important within your business.
Why should you even start this recognition program? Is it to increase sales? Decrease injury incidents or scrap? Or is it to increase productivity, attendance, and employee retention?
So you know, performance-based recognition has been gaining popularity due to its ability to motivate, engage, and retain employees, as well as taking on the classic psychology of positive reinforcement for excellent work.
Also consider your core values and mission statement, which you can use as a guide.
Your awards program can assist with countless needs and goals, but you need to be specific and targeted with each program – otherwise they won't be as effective.
2. What behaviors and accomplishments is your award program directed to support?
Once you define the goals of the award program, consider what specific behaviors you want as a result from your employees. How can you reach your goals and how can you get your employees to respond to a program to support the objective? Don't forget to be fair and flexible, while meeting the program needs and objectives already decided upon.
For example, your company may rely heavily on innovation and your Research & Development department is at the core of that. Therefore, your goal for the awards program is to increase patent submissions. But how can you accomplish this?
By creating an awards program that recognizes each employee or team every time they submit a new patent, would be one option, right?
3. Who will be recognized?
Once you know the goals of the program, consider who will be recognized. What are the demographics of the recipients? Get a feel for the type of people involved so you can focus solutions on what would appeal to them.
What is their typical work environment like? Describe how and where the typical recipient works. Get an insight into the lives and livelihoods of the recipients. (Also, consider this when you are picking out awards for your achievers.)
Are you creating an awards program for only certain departments, the whole company, or just a few key individuals? Get to know as much as you can about your target recipients.
Just be aware that the more you target a specific group, two things can happen.
The more you understand your target audience, the easier it will be to create an effective awards program.

If you are exclusive to only a certain department and that's the only awards program in the whole company, others might get jealous and disengaged. So, consider creating other awards programs in the future that can be more inclusive or more exclusive ones for other areas and departments. Because everyone wants the chance to be recognized.
4. How will eligibility be determined?
There are two parts to this.
The first is the possible recipients.
You know who your target audience is, but who gets to stand above the rest? Where do you draw the line on who is worthy of being recognized? Define what is required to be worthy of this award.
Then, the second part of this is how will the recipients be determined, and eventually, how will the winner be chosen?
Will they be nominated? Will you go based on data you already have and is readily accessible, like attendance? And will it be anonymous or public? Will there be a committee or one person deciding it all?
You've already determined your goals, but who will be eligible for your awards program?
5. How are you currently measuring these achievements?
Measurement is going to be key for your awards program. Especially if your management requires results and data for every dollar spent.
So, research how you're currently measuring these achievements that you're wanting to recognize. Determine if there is a process and the accountability involved. Then create a system or plan to measure the same achievements once you've started your awards program. That way you can easily pull the data in the future to see if your awards program is effective.
6. Have you done anything in the past to recognize your achievers?
This might mean asking senior or more experienced individuals in the company; however, it's good to know what has been done in the past. Especially understanding what worked, what didn't, and how it was handled. Keep in mind, if the previous program was a long time ago, things likely have changed, including people, data available, tastes, and so on.
7. How would you describe you company's culture?
Think hard and be truthful when you answer this question.
As mentioned earlier, if your company culture, mission statement, or company values are a strong part of your company, then you might want to have that as your guiding light during this process.
But, if you went out to your employees, would they even know your mission statement or core values?
If not, then do you want to create a program that will help build up the company culture and create a focus on aligning your employees, the company culture, and the branding?
8. What's the history of your company?
This is another avenue you might want to take with the awards program.
Here, at Bruce Fox, there's a Founder's Award. The award is a plaque of our founder and goes to someone who embodies his creative and innovative spirit. Anyone in the company can earn it.
Every company has a history and story to tell – it's up to you if you want to use that in your awards program.
9. How will the award be presented?
Are the awards presented in person at a single site/outing/event? Or will they be presented individually in the field?
You must understand the degree of visibility and begin to identify the logistics (including shipping).
Define the award, how it will be presented, and if there will be additional prizes.
Be warned, when choosing a recognition gift, keep your recipient in mind and how they will feel about your "reward."
Highly recommend reading these articles:
10. What do you hope to accomplish with this awards program?
What is the single-most important objective to you? Including personally and professionally, what do you want to see out of this?
Have a better company culture? Get back to the core principles of the company? Or are you wanting to lead a successful project that will last beyond you?
Even though this isn't important for the awards program itself, it's good to center yourself and understand why you are wanting to do the work of creating this program.
11. Who will you need?
In order to make your awards program a success, plan out who will you need. Who will you have to get approvals from? Do you need to work with certain departments? Are there any outside professionals you need to bring in?
Don't forget to consider who you want to bring in for making the awards.
Create a list – from who you need for approvals to the election and selection committee – of who you need to pull this off.
Simply, identify the various players.
12. Name of awards program?
Give your project a name.
Make sure it reflects the program and is appropriate for your company culture.
13. Is there a theme related to the awards program?
If so, are there logos or specific graphics to this theme? A theme is an important design element for the event, the awards, and for promoting the program.
14. What challenges do you anticipate?
Of those challenges you're predicting, what's the greatest challenge in this program?
See where the pinch-points might be and work to steer clear of them and plan for them accordingly.
15. How will you introduce and promote the program?
How will you introduce the program to your company? Consider how you will announce and promote it. You must make all the necessary parties aware.
And don't forget to continually promote the program throughout the year. This is to increase the value of the award and create a sense of desire (if it's an effective recognition program).
These questions can be utilized as a guide to building an awards program.
Have additional questions? We'll be happy to help! Reach out to us or check out our blog for more tips and insights.
---

Kristina Hublar is your friendly neighborhood Marketing Specialist at Bruce Fox, Inc., which means she is the person behind the keyboard for the social media, emails, website, and other marketing efforts. In her spare time, you'll find her plotting her next road trip, bobbing along to music while crafting, spending time with loved ones, or with her nose in a book.