Estimated Read Time: 8 Minutes
---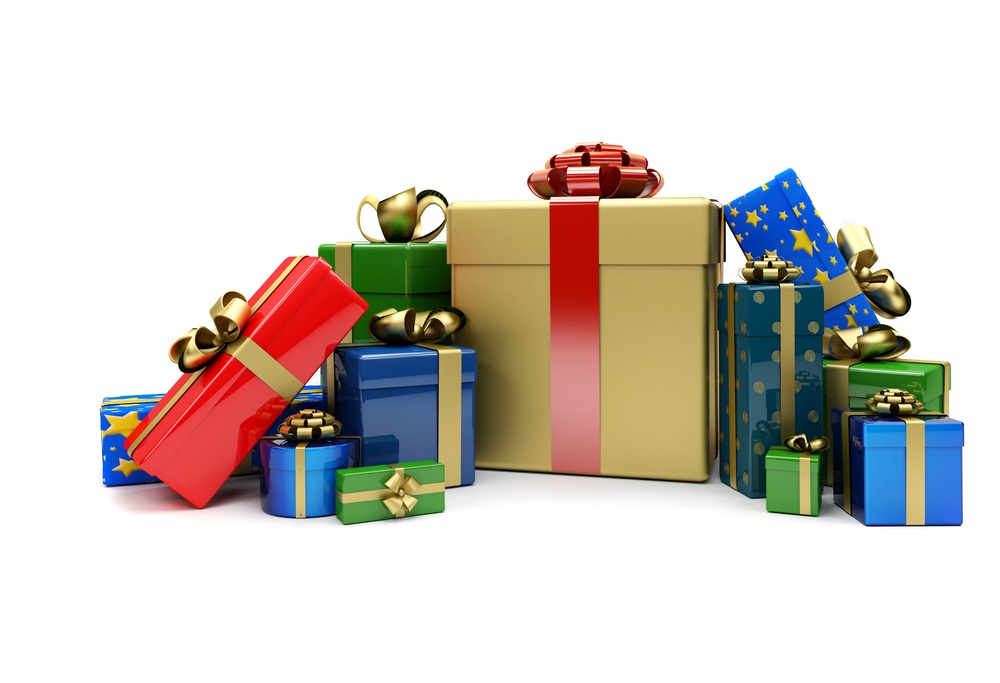 The holidays are finally here (and over for some of us).
The eggnog was bought, the halls were decorated, and the endless holiday parties were (mostly) attended.
With all that running around, from setting up your out of office to wrapping up any last-minute projects, I want to take a moment to discuss one of the most thought-about subjects this season – presents.
Yes, you heard me.
How much time have you spent thinking about what you're getting little Sally, your brother Jimmy, your Aunt Carol (who really needs to learn how to cook), and your best friend Chris?
Some people shop year-round in order to find the perfect present. Others wait until right before the holidays. Then there are the planners versus "let's wing it" people – that's how my husband and I differ. And I'm not even going into the DIY versus buying battle.
At the end of the day, we all know people who fit in each holiday gift-giving category.
Despite the difference in planning, timing, and such, there is one thing that anyone can agree on – we like to put extra thought and effort when finding a gift for those we care about.
We want those presents to be personal, thoughtful, and show that we care, right?
Some prefer practical and useful gifts, while others lean more towards something special and novel; however, the goal is to show that loved one that you appreciate them.
What Defines a Great Present?
So, what do you look for in a great present?
Come on, I'm sure you can think of a few things you look for in a good present.
I'll write out a few descriptions of what I look for…
Personal. Whether that's buying a monogrammed Harry Potter themed gift for my Potterhead friend or getting my mother-in-law some new tablecloths because she's in desperate need, it's about putting thought behind the gift. Make it personal, and they will appreciate it.
Timely. My best friend had a baby…in July. So I don't want to get baby stuff that doesn't apply anymore. Furthermore, you don't want to give gifts that are no longer relevant, are no longer useful, or your recipient can't make the connection to the gift because it was so long ago.
Meaningful. The gift doesn't have to be a car (like they show in those outrageous car commercials), but it can be something that holds meaning between the two of you. A gift card does not hold meaning, but an ornament full of seashells to represent that awesome trip to Florida this year will.
Unique. Who wants to get the same boring thing from multiple people? No one. Unique presents that are personal, meaningful, and still delight the receiver are the best. Plus, you want that present to be used and/or proudly displayed.
How many of these were along the same line as what you were thinking?
I'm sure there were a few overlapping in nature, though it might not be the same wording. Presents are special. You want to make them smile and to show that you care while not giving them a hunk of junk that won't even make it past New Year's.
How Businesses Give Gifts Now
You employees are no different from your friends and family.
If you want the gift to be effective, you need to understand that a business gift needs to be more than "insert logo here" or just another gift card.
Let me tell you a story…
My dad is retiring this year and was given the "years or service" catalog to pick from. He and his co-workers were disappointed because they've put in a minimum of 30 years and they have to choose from gift cards, pots and pans, wine refrigerators, clothing, and other stuff they already have (if they really wanted it). What does a pot and pans set have to do with a large shipping company or his Business Systems Analyst position? Let me tell you – none.
One of his friends ended up giving away to a family member the blender he got for 40 years of service; obviously he was disappointed and frustrated.
My dad is no different. If he wanted any of these things, he would have bought them already; however, he ended picking a wine refrigerator. Should I mention that he's a diabetic who can only drink a little per week?
That's how useless all of that stuff in the "employee gift catalog" was, yet the wine refrigerator company or his employer might have thought my dad is excited because he picked something. They would both be wrong.
That "gift catalog" and its options sound personal, timely, unique, and meaningful, right?
Choosing a Meaningful Present for Employees
The gift needs to be personal and should create a sense of connection and pride. There should be an obvious and direct correlation between what actions or achievements lead to earning this gift.
Otherwise, as in the story with my dad, the employee recognition will lose its significance.
The four points that I look for when picking a present for my loved ones are actually quite similar to what Bruce Fox recommends for an effective and meaningful gift and/or award.
Value – The gift needs to portray intrinsic quality and an extrinsic emotional and perceived value behind the material "stuff." (No one wants just another "banana.")
Aesthetic – Visually interesting for proud showcasing. (Who wouldn't want something to proudly show-off; it fits into Maslow's Hierarchy of Needs in multiple places for goodness sake.)
Meaningful – Based on clear, uniform, and well communicated performance or showing appreciation.
Symbolic – Clear incorporation of the brand/culture and an equal message that resonates with the recipient's individual achievement or accomplishment.
Exclusive – "Your idea here," not "Your logo here."
Incentive – Make their peers want to strive for the same level of success or accomplishment.
Timely – Connect to the measured performance or recent occurrence.
Accurate – Make sure it's the correct gift, went to the proper destination, with the right name; such as Stew and not Stewart or Jeff not Jeffery.
Convenient – Rather than you having to juggle countless variable data, from the right name to what they get, what is being celebrated, and even to where the gift needs to be shipped, Bruce Fox makes all that data effortless with our program administration service.
Personal – Speak to the individual achievers and their achievement.
So, when you give your employees gifts, do you just buy something that's easy, an object you can just slap a logo on the side of, "cheap and fast," or do you give thoughtful, meaningful, and personal gifts?
Remember, it's about putting a smile on their faces, increasing the likeliness of retaining your top talent, instead of disappointing your employees and likely losing them later. Treat your employees like your friends, pick presents that show that you care about them and what they do.
Want to learn more about giving gifts that will make your employees happy?
In addition to our blog, you can check out some tools we've put together or reach out to us and start a conversion.
Just, please, start giving better gifts – or your employees might end up disappointed and questioning why they should bother.
---

Kristina Hublar is your friendly neighborhood Marketing Specialist at Bruce Fox, Inc., which means she is the person behind the keyboard for the social media, emails, the website, and other marketing efforts. In her spare time, you'll find her bobbing along to music while crafting, spending time with loved ones, or with her nose in a book.