Estimated Read Time: 10 Minutes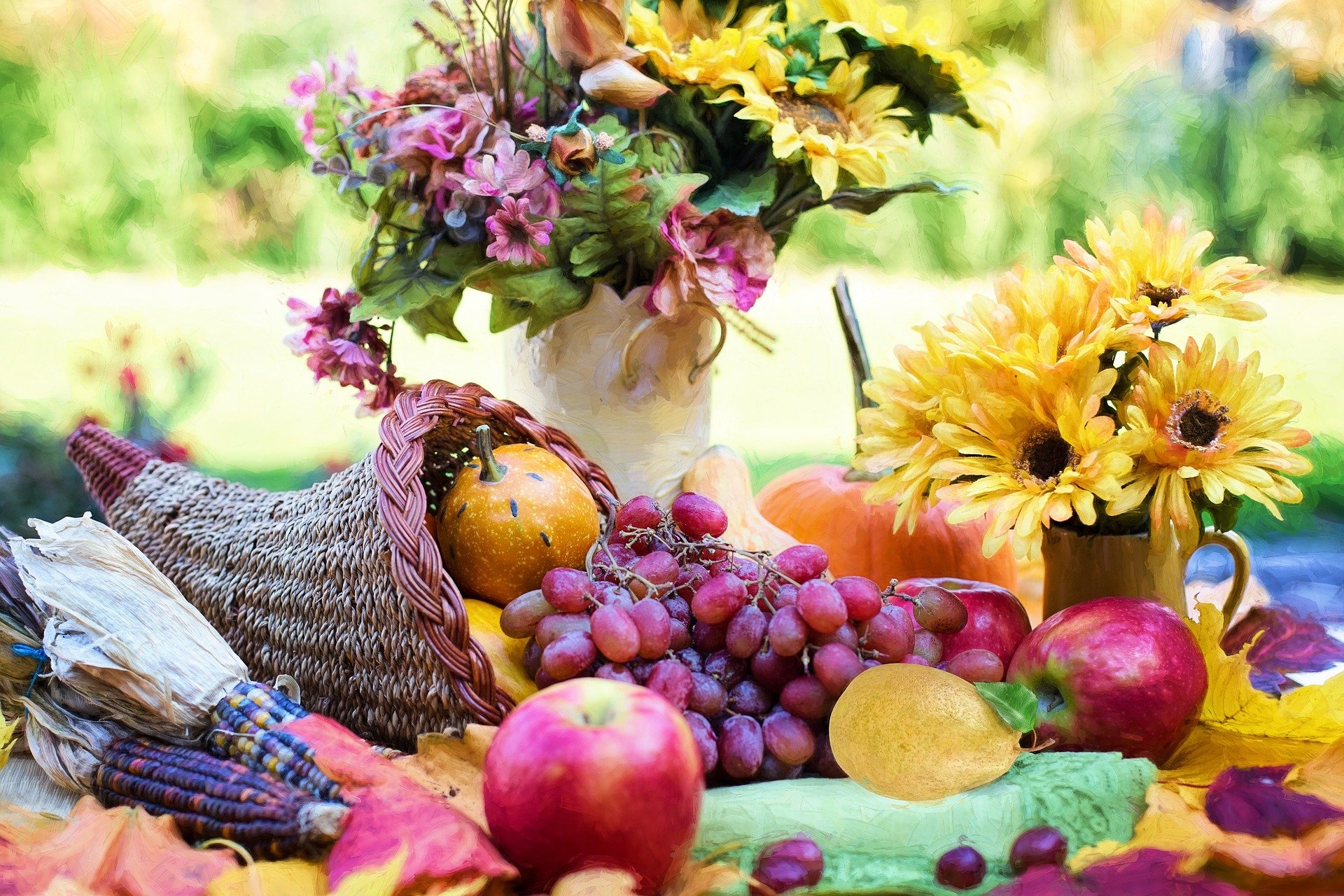 What does Thanksgiving mean to you? Having too much turkey and pumpkin pie? Spending time with your friends and family? Rushing from house to house, trying to make all the different get-togethers while wondering why you do this to yourself? Or is Thanksgiving just the day before Black Friday?
Thanksgiving means something different for many people; however, it did not start as all of those things. Thanksgiving started as the most basic definition – giving thanks.
Being thankful and celebrating what you have by giving thanks for it.
That's the definition I want to remind everyone about – be thankful for what you have; whether that's your friends, your family, your health, a roof over your head, or even your employees. Everyone has something to be thankful for.
Take a moment to consider what you are thankful for.
I'll wait.
Thanksgiving at Work
Thanksgiving is not exclusive to home. Many of us celebrate Thanksgiving at work, too. At Bruce Fox, we treat our employees to a "Thanksgiving lunch" at work and give all of our employees a turkey for the holiday.
How does your work celebrate the holiday? A pot-luck? A big lunch out? Little gifts?
Every company shows appreciation differently, whether that's for the Thanksgiving holiday or for other holidays that land year-round.
However, the point is that all companies and organizations should take this time to remember to be thankful. It's your people that make your company. Your people define your company – from your sales and customer service all the way to the quality of your products produced. They are your lifeblood. They interact with your customers, they set the pace of how efficient and profitable you are, they are your brand ambassadors, they define your quality and overall product, and so much more. Cutting to the chase, your employees are your company.
Your Employees' Happiness Matters
Yes, you understand and know that your customers bond with your employees and that how your employees act impacts your company. However, have you also considered about how their happiness impacts your company?
I've written three blogs about how the employee experience impacts a brand (and the bottom line):
So, how are you creating a positive and engaged environment for your employees?
Bring Thankfulness into the Workplace
When was the last time you thanked your employees? When was the last time you showed that you care about them and what they have done?
Take a few seconds to wrack your brain for a few measly examples.
I can probably tell you that you likely have not done enough (just check out the numbers from the 13 Terrifying HR Stats blog, which shows that the majority of companies are not doing enough).
With that in mind, how are you going to bring more thankfulness into your company culture?
18 Ideas to Show Your Employees That You Care
This is certainly not an all-inclusive list, just a few ideas to kick-start an ideation process to discover what best suites your needs, employees, branding, and company culture. But we all have to start at some point, right?
1. Thank You
Show your appreciation through words. This can be a heart-filled verbal thank you, through a card, or even through a holiday card. Point out instances when they went above and beyond, what makes them valuable to you and /or the company, how they've been improving, or how they've exceeded expectations. Thank them for their hard work. Your employees will appreciate it.
2. Employee Recognition Programs
Employee recognition programs are perfect for raising morale, growing engagement, attracting and retaining key employees, ramping up productivity, increasing competitiveness, accumulating revenues and profits, improving quality, and developing target-behaviors, as well as reducing employee stress, turnover, and absenteeism.
Get ideas for employee recognition programs here.
3. Free Food
Who doesn't love free food? Whether it's through providing lunch for your employees, hosting a pot luck, or catering a dinner for your employees and their families, providing time for employees to enjoy a meal together shows that you care.
4. Work Parties
We are familiar with the traditional holiday party, a company anniversary party, or other major event. Throwing a party for your employees to thank them for their hard work will be greatly appreciated (if the party is good and memorable).
5. Commemoratives and Gifts
Whether it was a big project or a company anniversary, many companies give commemoratives or gifts to mark the occasion, as well as to show their appreciation. It gives employees something personal and sentimental to mark the occasion.
These gifts are effective and welcomed when they are of high-quality, timely, and meaningful.
Here are some ideas and inspiration:
6. Give Them a Bonus
We all know that money is always appreciated. Everyone loves a bonus around the holidays, or just in general. I'm sure we all can use it.
Just two thoughts on the matter:
Make sure that the bonus is noticeable. If it's only a few bucks, employees will feel insulted.

Be aware that the bonus will quickly be forgotten. My story about gift cards here also applies to monetary bonuses.
7. Recognize Teams, Departments, and Individual Employees
Recognize your teams, departments, or individuals for their hard work, significant work, or special work. Whether it's for embodying the spirit of the company culture's goals for the year, finishing a 4-year long project, supreme sales numbers, excellent customer service, perfect attendance for 12 years straight, zero accidents in the facility for the year, or for filing 9 new patents that year - there are plenty of reasons to recognize teams, departments, and individual employees.
You can do this by a few of these ideas:
Sending them on a reward trip

Making a donation in their name

Give bonuses
8. Training Programs and Other Opportunities
Employees want to be able to educate themselves further, this includes going to conferences, participating in internal and external training programs, having an internal or external mentorship program, or other ways to allow your employees to advance in their careers, professional development, and to overall continue their education.
9. Career Paths
An article by The Undercover Recruiter provided some good insights and arguments on the importance of enabling employee career paths. They discussed how it was smart to leverage the strengths and potential for growth in employees while setting expectations, increasing engagement, empowering employees, and creating an experience.
10. Onboarding Gifts
Whether you have a new employee starting a position or if a current employee has been promoted or moved, it is always fun to get a welcome package. It shows that you care and want to bring them into your department, company, the company culture, and the position in a fun and friendly way.
Bonus: I wrote a blog about how to start an onboarding program not too long ago.
11. Award Event or Banquet
Awards and banquets are about celebrating people, an occasion, or a group. They are different from parties, due to their reason for the event, the atmosphere, and so on. Overall, banquets have the connotation of being a more formal affair. Hence, your employees will understand that this is a serious occasion and celebration of recognition.
Awards are typically given at these events.
12. Make Time for Them
When was the last time you made time for your employees? Whether that is time for them to vent, to discuss further opportunities, to learn, or even for team bonding outings – be sure to make time for your people. That shows that you care, respect, and appreciate them as people, not just workers.
13. Back Them Up with Clients
No one wants to admit it but sometimes clients, contacts, or prospects are not exactly the stuff dreams are made of – unless those dreams are nightmares. So, backing up your team when they did a good job or even if they failed will show that you have their back and that you trust and support them.
14. Make It Personal and Specific
It doesn't matter if you give them an award, a gift card, a card, or even verbal recognition in front of their peers, make sure it's personal and specific. No one wants to be put in the spotlight for no reason or not knowing what it's about. So, be sure you state why they are being recognized and make it personal instead of clinical or scattered.
15. Ensure A Good Working Environment
Show that you care and are thankful by ensuring that they have a good working environment. This could mean by implementing technology to help them with their job, creating a relaxation room, or other elements that will help them do their job, feel respected and appreciated.
16. Company Culture
As Neil Patel's blog summarizes, "… company culture matters. Culture sustains employee enthusiasm." It impacts your productivity, retention, recruitment, branding, and company performance. You are a team and not a bunch of individuals. Who, I may add, spend a good portion of their lives at work, so you need to look at the various elements that go into your company culture.
Engage your employees and show that they are important to you by taking a hard look at your company culture and consider if you need to make any changes.
Assess your branding and culture alignment here.
17. Provide Resources at Your Company
Mental health services, medical benefits, free food, education opportunities or assistance, technology, flexible work options, child or elderly care services, paternal leave, unlimited vacation, and other interesting benefits and resources are not only recruiting and retention tools, but they also show your employees that you understand that they are people. Benefits and resources are ongoing ways to show employees that you appreciate them.
18. Regularly Check in With Them
When was the last time you checked in with your employees? Did you ask how they were doing? If they needed anything to get their jobs done? Not only taking the time to listen to them, but checking in on your employees incites respect and understanding; which employees appreciate.
With Thanksgiving here, how are you going to thank your employees and show that you care? Are you going to try any new ideas to incorporate into your company culture or employee engagement plans? Tell us in the comments!
---

Kristina Hublar is your friendly neighborhood Marketing Specialist at Bruce Fox, Inc., which means she is the person behind the keyboard for the social media, emails, website, and other marketing efforts. In her spare time, you'll find her bobbing along to music while crafting, spending time with loved ones, or with her nose in a book.