Estimated Read Time: 6 Minutes
---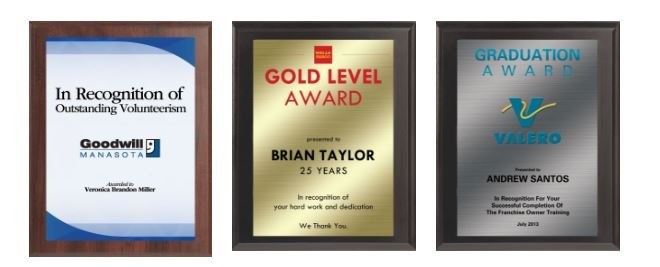 For those who didn't see our DYK DYR? blog, there is a stark difference between our custom line and our DYR line. Our custom work starts with a blank sheet of paper and a conversation, then we design and build the new idea from scratch, here's a how-to blog explaining our process.
Our DYR line consists of stock pieces that you can customize a little to your needs. We've written a few blogs focusing on our DYR line:
Each of these blogs focuses on our DYR line. Providing insights, capabilities, and elaborating on the unique characteristics of each product.
As we all know, when deciding on the right plaque or product, you have to look at your budget, timeline, needs, wants, and target audience. Each of these parameters guides you to which DYR product would best suit your project needs.
That's why we've been spotlighting DYR products each month – to help you make more informed decisions.
Also, please be aware that the DYR line is not on our main website (BruceFox.com) but DYR is on its own website –DYR.BruceFox.com. We wanted to keep them separate so there isn't any confusion between the two lines.
Custom Versus DYR
There are pros and cons to both lines. Custom will take more time but it will be completely unique and custom to your needs. Versus, DYR has stock options, which you can customize some to your needs.
Want a better example?
Custom starts with a conversation and a blank sheet of paper, transforming into a piece that's only for this one company and one need – like this piece created to commemorate the partnership between Dr. Pepper and Chick-fil-A.
Stock is more commonly found. You know these are more routine and typical - you see the plaques on the wall showing the employee of the month in stores across the country. You see them as more standard, than above-and-beyond.
Those in need of the DYR line want less of a fully unique touch and want more of a pick and build style - like building a taco or burger.

Both are good for their own needs and reasons, but when approaching a project, you must understand the needs of the piece. Are you looking at a piece that you drew on a napkin, and can't find anywhere, to be brought to life? Or are you looking for a piece that can be built through a few choices with a little added personalization, which can be quickly created and sent out?
Still not sure which best fits your project? Reach out and we can help or take our quiz.
The Benefits of DYR
Alright, you know that DYR sounds like the best option for you, but besides being stock, what does that mean?
Though our DYR line, you get the following benefits:
Lower minimums (only 3)

Faster virtual turnaround times (typically 1-2 days)

Faster production turnaround times (typically only 7-10 days)

Rush orders available for certain key products
Nice benefits and value for our DYR line, right?
Now, would you like to meet another great DYR product? This month is Sublimated Value Plaques.
DYR Spotlight: Sublimated Value Plaques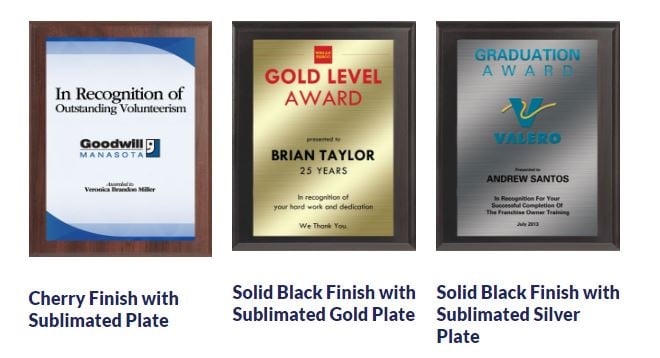 Each of these pictured are different versions of a Sublimated Value Plaque. As you can see, they are similar in overall shape and style, but each is unique and customized.
Our Sublimated Value Plaques are our value line of sublimated full-color aluminum plates on economy wood plaques.
Translation?
We can do a full-color print on the aluminum to suit your needs and then put the aluminum on a wood plaque.
So, as mentioned before, it's kind of like a pick and create feel with these, but you'll have more options than many in our field. You aren't stuck with only one or two colors, period. You have quite a few choices, but in an easy step-by-step format.
Steps to Create a Sublimated Value Plaque
1. Choose a size – We have 8 different sizes to choose from.
2. Choose a quantity – 3 all the way to 50+.
3. What do you want printed on the sublimated plate?
- Do you want a full color print? If so, what?
- Don't want to do a full-color? Would you like the plate that will be showing to be silver or gold?
4. What would you like to say and show on the plaque?
5. What finish would you like the wood plaque to be? Cherry or Black?
6. Do you need easels or will it hang on the wall?
Do you see how easy that was? Six questions and you've basically built your plaque.
Alright, you'll have to define the details, such as names, addresses, shipping information, billing, and such, but building the plaque was simple and fast.
All you have to do is understand what you are looking for and then answer a few questions; then you can get a whole shipment of Sublimated Value Plaques in only a few weeks! That's the benefit of our DYR line!
Want to get started on a project? Check out our pricing for our Sublimated Value Plaque line here. Reach out to us if you'd like to start a conversation or if you have any questions – we'll be happy to help!
---

Kristina Hublar is your friendly neighborhood Marketing Specialist at Bruce Fox, Inc., which means she is the person behind the keyboard for the social media, emails, website, and other marketing efforts. She's new to Bruce Fox, but is an Indiana native. In her spare time, you'll find her plotting her next road trip, bobbing along to music while crafting, spending time with loved ones, or with her nose in a book.